News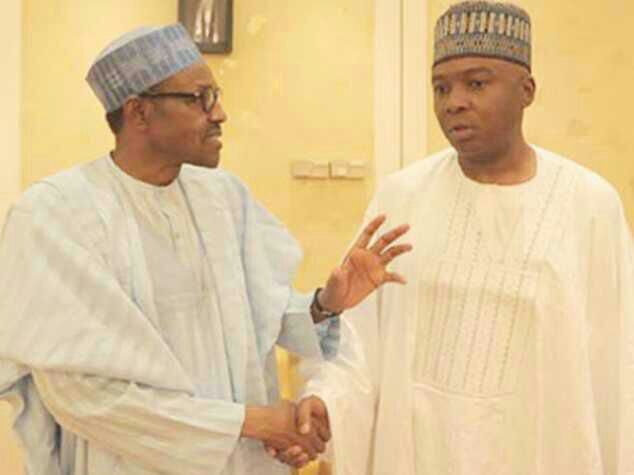 President Buhari's aide on social media, Lauretta Onochie, took to her Facebook page and listedthe sins Saraki committed against the Buhari's government and APC before his defection.
The post read:
"APC is the most tolerant political party in the world. No other party would accommodate Saraki the way APC did till we could take no more. Here are a few of his sins. Just a few obvious ones that are in the public domain."
1. Non-confirmation of EFCC Chairman sent in by the president
impeding and threatening to derail the fight against corruption.
2. Giving preference to PDP members in committee appointments in the Senate.

3. Delay in the confirmation of the boards for AMCON, CBN, NERC,
NSADA, ICPC, among others.
4. Giving the deputy Senate president to the opposition party.
5. Placing roadblocks to the actualization of government's promises to Nigerians.
6. Constituting a clog in the wheel of progress of the development of the country and the implementation of the policies of the administration.
7. Joining forces with the opposition to ridicule President Buhari's fight against corruption.
8. Stole money from the APC campaign during the presidential
campaign in 2015 and starved the campaign council of funds.
9. Maintains a relationship with a gang of armed robbers who have been notorious for disturbing the peace of good people of Kwara state.
10. Rallied corrupt elements to buy his Senate Presidency seat against the wishes of the Party.
11. Currently inducing Senators with $100,000 each to suffocate PMB's government in the Senate.
12. Delay of the 2016, 2017 and 2018 budgets and thus impeding the economic development of the country.
13. Budget padding and inserting 391 projects into budget of only two agencies.
14. Shutting down the National Assembly and personalizing the
National Assembly affairs especially when he is required to answer
questions at law enforcement authorities, we see the entire senate
following him to the CCT and shutting down the Senate.
15. His refusal to entertain the virement for the funding of critical
MDA's which will ensure key agencies like INEC, NSA, NPF conduct their duties to ensure a free and fair elections.
16. Frustrating key laws in the fight against corruption and promoting laws that serve personal interest like the Bill on re-ordering the sequence of elections.
17. Fictitious insertions of amounts that are diverted in the name of constituency projects.
18. Lack of internal democracy where he, at will, suspends senators with different opinion from him.
19. Refusal to approve loans meant for infrastructural development
of the country.
20. Using the Senate as an institution to fight personal vendetta.
21. Generally undermining the government for the past three years.
22. Permitting and tacitly endorsing frivolous motions to unjustly attack the President and the government.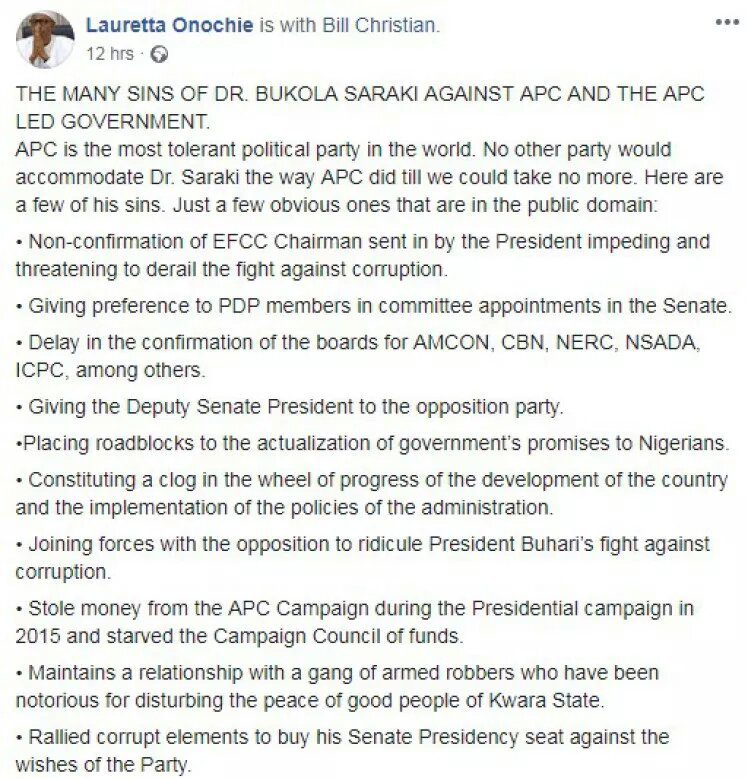 Don't forget to comment and share