REVIEW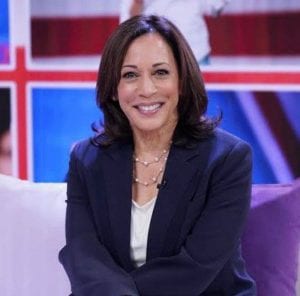 Kamala Harris Biography And 16 Important Things You Need To Know About US 'Madam Vice President'.
This article revealed the complete biography and personal life of newly elected 'Madam Vice President' of the United States of America, Kamala Harris.
 Kamala Harris and her sister Maya was raised by their single mother after her parents divorced when she was just seven years old girl.
Harris embraced boat south Asian and black identities. She said "My mother understood very well that she was raising two black daughters and she was determined to make sure we would grow into confident coma proud black women".
She was influenced by her grandfather and her grandmother when she she first visited India as a child. Meanwhile, her grandfather was a high-ranking government official who fought for Indian independence. Her grandmother was an activist who traveled the countryside teaching impoverished women about birth control.
Iris offended I School in Montreal and letter to Howard University where she studied political science and economics.
Kamala Harris joined the Alameda County Prosecutor's office in Oakland as an assistant district I told me focusing on sex crimes after passing the bar in 1990.
 Harris man's friend comma Willie Brown who was 30 years older than Kamala Harris and he was then the speaker of the State Assembly. Willie Brown appointed Harris to the California Unemployment Insurance Appeals Board and the Medical Assistant Commision in 1994.
In 2003, she became the first black woman in California to be elected as Francisco district attorney.
 She made most controversial decision in 2004 when she refused to pursue the death penalty against the man who murdered a San Francisco Police Officer, Isaac Espinoza.
 She refused to support two ballot initiatives that would have banned the death penalty in California. She raised accusations of political opportunism and inconsistency on the controversial issue.
Kamala was the first notable California office-holder to endorse Barack Obama during his 2008 presidential bid.
In 2014, Kamala got married to a lawyer, Douglas who is two kids with this ex wife. The children, cold and Ella start stand us Kamala Harris children  (Harris step-children) who refer to her as 'Momala'.
In 2016, she defeated the fellow Democrats, Loretta Sanchez (a moderate congresswoman with 20 years of experience) to became US senator.
In November 2020, she became the first woman, first African American and first Asian American Vice President (Madam Vice President) in the history of the United States.
According to Forbes, Kamala Harris net worth is $5.8million
She usually wakes up around 6.am and works out on the Soul cycle or elliptical for half an hour.
Kamala Harris described herself as a tough boss and mostly on herself.
We will continue adding to this 'Madam Vice President' of the United States of America, Kamala Harris biography everyday.