News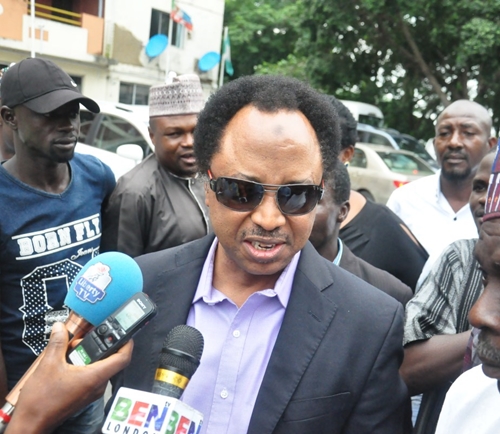 Outspoken politician and senator representing Kaduna Central who recently dumped APC has opened up on why his colleagues in APC didn't remove Bukola Saraki.
Senator Shehu Sani,
has revealed why senators in the ruling All Progressives Congress (
APC
), backed out of a plot to remove the Senate President,
Bukola Saraki
.
According to PREMIUM Times, while speaking with reporters in Abuja on Sunday, the senator representing Kaduna Central who recently defected from the APC, also said the ruling party did not have the number of lawmakers required (two-third majority) to carry out its plan.
Recall that following the defection of the senate president from the ruling party to the opposition Peoples Democratic Party (PDP), the APC leadership and some of its senators called for his resignation or forceful removal.
The APC chairman, Adams Oshiomhole, was particularly vociferous in his threat to ensure Saraki was removed if he did not resign, and the senate president vowed to remain in office saying he enjoys the support of majority of the senators.
The senators of the APC eventually dropped plans to remove senate president when the house finally resumed from a 10-week recess as nothing was said or done about it.
Senator Sani explained why the plan failed. "It is technically impossible to remove Saraki because the APC does not have two thirds majority in the National Assembly. 
"Secondly, Saraki has been able to carry everybody along and provide a leadership to the extent that he is able to accommodate those who are critical of him."
"I can tell that APC backed out from plot to remove Saraki because they don't have the number to do that and it is impossible to do that through constitutional means," he said.
Sani, who is now seeking re-election on the platform of PRP, said the opposition party, PDP, "where Mr Saraki now belongs to is more united than the ruling APC senators in the National Assembly."
"The opposition are more united and more formidable in their resolve to keep the senate president than the ruling party in their plot to remove the senate president.
"So, I can tell you that removing Saraki through constitutional means is very much impossible because the APC is not united to do that. The APC is not having the number to do that and the APC does not have the kind of support it needed to be able to carry out the plot."
Don't forget to comment and share