Football Highlights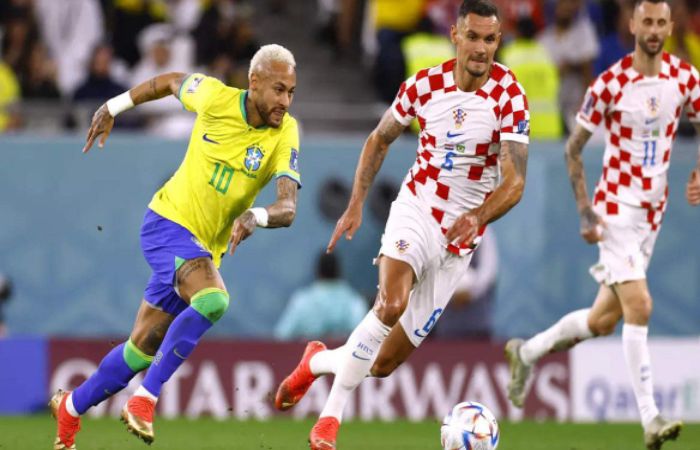 Download Football Video: Croatia vs Brazil 1-1 [PEN 4-2] Highlights #CROBRA.
Croatia vs Brazil 1-1 [PEN 4-2] Highlights Download: FIFA World Cup (Qatar) – December 9th,  2022. 
#QatarWorldCup2022 #Qatar2022 #FifaWorldCup #WorldCup #Qatar #Brazil #Brazil #CROBRA . 
The knockout stage of Quarter final for Qatar 2022 World Cup between Croatia & Brazil started with full attacking forces.
Croatia managed to proceed to semi-final after knocking out Brazil in penalty shootout. Full time score was 0-0 and extra time ended with 1-1 draw.
Perisic's cross to the far post from the top of the left side is a bit heavy. It goes over the charging Pasalic. Good move from Croatia.
After a few minutes of classic Brazilian attack, Croatia are slowing the pace down again. Antony gets a bit frustrated as he tries to tackle the Croatian midfielder, but escapes without a booking.
Croatia keeper Livakovic makes a good save to deny Brazil an early second half goal. Livakovic sticks his leg out to clear the ball away from the goal.
Rodrygo and Richarlison combine in the left wing but Neymar couldn't beat Livakovic after being released early in the attack. Great save again.
Point-blank save from Livakovic to deny Paqueta! Huge roar from the Croatian crowd and equally massive support from the Brazilian fans near the goal as the side goes insanely close to taking the lead.
Croatia are yet to hit a shot on target in the match. Brazil have registered four shots on target so far.
Manchester United's winger, ntony made an instant impact after coming on as he creates a chance within seconds, releasing Neymar on the wing and enforcing a cross.
Doesn't result in a goal, however. A few minutes later, Antony powers from the right and feeds Rciharlison this time, but it results in goal kick too.
OR WATCH FOOTBALL VIDEO BELOW
Check out the latest Brazil highlights and goals here
Check out the latest Croatia highlights and goals here
Don't forget to comment and share