Sport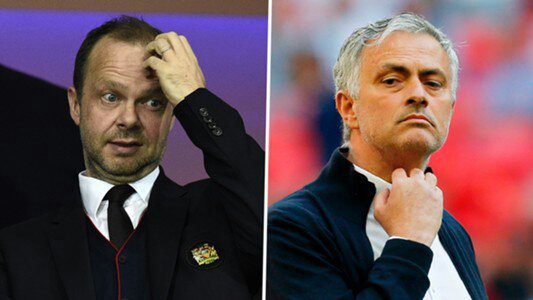 Jose Mourinho has been sold short by the club's approach to the summer transfer market and it is further proof that their priorities are
all wrong
Even after Jose Mourinho attempted to manage expectations in his
Thursday morning press conference , many Manchester United fans
remained hopeful that somebody – anybody – would be snapped up on deadline day to give the club a much-needed boost going into the new season.
But as 17:00 ticked by without further activity, one of the club's most frustrating transfer windows in memory came to a close. And
Mourinho is chief among those with an axe to grind over the lack of
signings since the end of last season.
Young full-back Diogo Dalot, Brazil international midfielder Fred and
back-up goalkeeper Lee Grant were all important additions and could well go on to play crucial roles in the Premier League campaign to come, but everybody knows that United haven't done the work they set out to do in May.
They are still short of a top class full-back and don't have a natural right-sided attacker in their squad. And their bungled pursuit of a
centre-half has defied logic at times over the 12 weeks since Phil Jones' crucial error against Chelsea in the FA Cup final underlined just how much the back line is in need of greater depth and quality.

Tottenham's Toby Alderweireld was the main target throughout the
summer, and at one stage United thought they may have made a
breakthrough, but ultimately they couldn't force a deal through and
fall-back options Harry Maguire, Yerry Mina, Jerome Boateng and
Diego Godin similarly slipped through the net.
While Mourinho has had plenty on his plate around the saga of his
relationships with Paul Pogba and Anthony Martial, the loss of so many stars after the World Cup and the need to work with youth-team players instead, it is the shortcomings of his superiors which have become the defining story of the summer.
Executive vice-chairperson Ed Woodward and head of corporate
development Matthew Judge simply failed to deliver what United needed on the field during this transfer market. While fans were desperate to hear of new players, all they could deliver were a steady stream of new commercial partnerships.
Following the addition to the shirt sleeve of a new sponsor, Kohler,
came the announcement of a new betting app agreement with MoPlay and a partnership with Chivas Regal whiskies. Not only were such missives not what the fans were waiting for, they were also further evidence that the priorities of Woodward and the Glazer family are simply not where they are meant to be.
The Glazers have come under intense scrutiny since the day in 2005
when they took ownership of the club thanks to a purchase comprised of loans secured against the club's assets at exorbitant interest rates. For eight years the continued ability of Sir Alex
Ferguson to work his magic with the first-team squad took away some of the heat, but since the departure of the Scot and CEO David Gill, Woodward has been exposed as an ineffective administrator on a footballing level.
While he has made a habit of making the club millions in commercial
tie-ins such as those he has helped to deliver this summer, his effectiveness in supporting managers on the market has been far less convincing. He might well set out to add the right players into the mix, but his low percentage rate for delivering signings is of a huge concern. The widespread interpretation is that Woodward cares too much about getting exactly the right deal financially and not enough about securing the right player for what Mourinho wants
to achieve on the pitch.
Woodward's quarterly reports to shareholders have regularly boasted of great gains on a financial level, but United have had no say in a title race over the last five years. Worse still, he made no apologies for that disconnection when questioned in May.
"If I answer that just very simply and candidly, playing performance
doesn't really have a meaningful impact on what we can do on the
commercial size of the business," he explained to shareholders.
As such, he has exceeded expectations in one department this summer in managing to close three major deals, but that work has done nothing to further the club's cause on the pitch where it really matters.
In their quest to bring down the debt with which they burdened
United from day one, the Glazers will no doubt be delighted with Woodward's work. But Mourinho most certainly is not as the executive refuses to budge when it comes to negotiating fees and ends up leaving the manager without the players he wants.
The manager made it be known that he was expecting plenty of
incomings heading into 2018-19 as he looked to gear his side up to challenge a Manchester City side which ran away with last season's title.
"I would like to have two more players. I think I am not going to get
two," Mourinho told reporters during their US tour. "I think that it's
possible I will have one. I gave a list to my club of five names a few months ago. And I wait to see if it's possible to have one of these players."
But those extra signings never arrived. Instead there has only been
increased frustration and growing tension. In the summer of 2016
Mourinho asked Woodward for four players and got every one of them, while 12 months on they failed to snap up only Ivan Perisic of their quartet of targets.
The shortage of signings this summer ahead of what is likely to be a huge season in Mourinho's career, let alone his Manchester United tenure, has understandably not gone down well. Meanwhile, Manchester City have added Riyad Mahrez to a side which gained 100 points last season, Liverpool have made four major signings after reaching the Champions League final, Chelsea have spent £123 million on Jorginho and Kepa alone, and Arsenal have brought in five new first-teamers.
Mourinho is used to winning, and the last couple of years will have hurt him greatly. More than that, he is used to working with ambitious people and clearly he does not see the actions of Woodward, Judge and the Glazers as being of the standard required if United are to compete at the very top.
Even Alexis Sanchez raised an eyebrow at the lack of activity when
speaking to ESPN Brazil. "I would have liked that they had signed many more world-class players," said the Chilean. "But it's the club's decision."
It is that decision-making which has had Mourinho appearing down
in the mouth all summer. It is that decision-making which has had
fans tearing their hair out at every tweet sent out by the club over the last five weeks. And it is that decision-making which calls into question exactly what the Glazers and Woodward are trying to achieve at Manchester United.
Off the pitch they are making a mint. On it they are failing Mourinho and every single Manchester United fan.
Don't forget to comment and share