News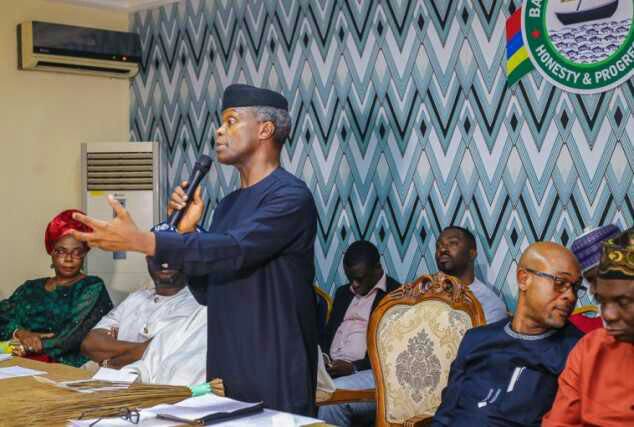 Vice-President Yemi Osinbajo has maintained that the focus of the present administration, isto take Nigerians out of poverty.
He said all government's programmes and projects were geared towards achieving that objective.
According to a statement on Wednesday by his Senior Special Assistant on Media and Publicity, Mr. Laolu Akande, the Vice President spoke during a town hall meeting held in Bariga/Somolu Local Council Development Area, Lagos State to felicitate with Lagosians on the Eid-el-Kabir celebrations on Tuesday.Osinbajo said the government was targeting those at the lowest level so that they can do better.
He said: "I want to emphasise that everything we are doing, our focus, first of all, is to ensure that people are taken out of poverty. "Our country is very big; over 200 million people, many young people coming out every day. Aside from that, we also want toensure that anybody who is doing anything at all, who is trading, artisans, mechanics; we are able to support them.

"The reason is that when you look at the way government operates in the past; when you look at the government budget, it focuses on the middle-class, those who have industries and manufacturing plants, and those kinds of people. "But the majority are at a very low level, doing little things. Those are the people that we must first of all (focus on) so that the poorest are able to do better.
If the poorest do better, itwould be better for all of us."Osinbajo noted that the administration's National SocialInvestment Programmes were geared towards improving the welfare of ordinary Nigerians. "The President's focus has always been on the common man.
So, when we came, we decided on a few things to tackle youth unemployment. First, the N-Power programme to engage as many young people who are graduates as possible. "We started with 200,000, and just this month, we have employed another 300,000.
So, in our N-Power programme, we have 500,000 young graduates who are employed in the programme. Now every local government in Nigeria has N-Power graduate," he added.
Don't forget to comment and share