News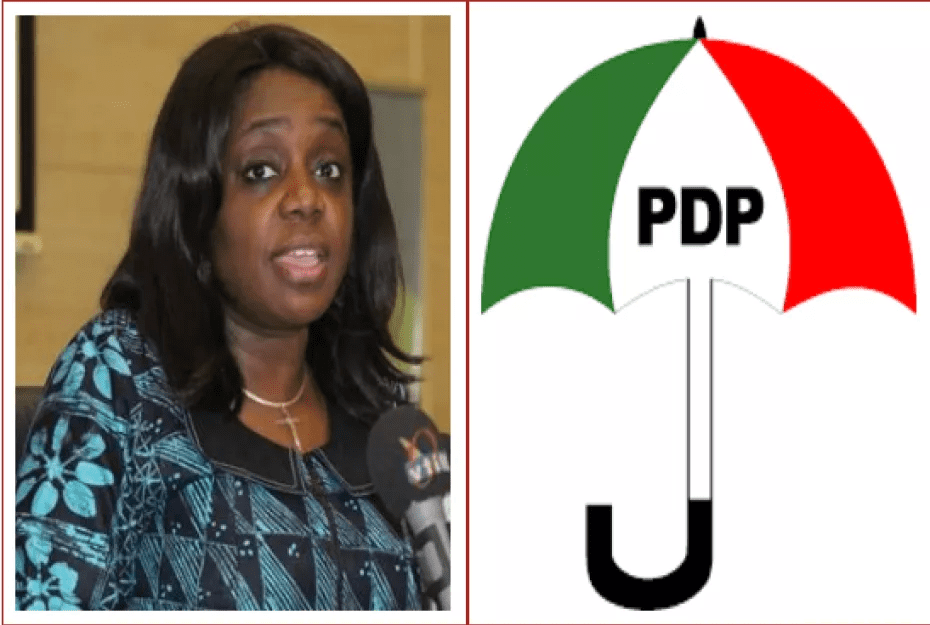 The Peoples Democratic Party (PDP) has tasked
President Muhammadu Buhari to immediately
order the sack, arrest and arraignment of Finance
Minister, Mrs. Kemi Adeosun for alleged criminal
forgery of her National Youth Service Corps
(NYSC) discharge certificate.
The party said on no circumstance should President Buhari shield
the minister from the wrath of the law, adding that Nigerians were
becoming tired of the kid's glove treatment meted out to indicted
officials of the Buhari government in the past.
In a statement issued today by the National Publicity Secretary,
Kola Ologbondiyan, the PDP said the Minister's NYSC certificate
scandal was a vindication of its position that the Buhari
government is not as upright as it wants Nigerians and other
citizens of the world to believe.
"The world can now see how the Buhari Presidency has been
concealing sharp practices under it. We can now see why there is
humongous corruption under President Buhari's watch and why
Mr. President has refused to take any concrete steps to check the
sleazes in his administrations.
Perhaps such 'artful dodgers' were
deliberately hired and placed in revenue related agencies to perfect
the pilfering of our common patrimony for interests in the Buhari
Presidency.
"The PDP challenges President Buhari to prove himself a man of
integrity by allowing an open system-wide and independent
inquest into all alleged corrupt practices in his presidency. We
challenge President Buhari to be bold to allow an open
independent inquest into the exact figures amounting to the
trillions of naira oil revenue earned by the nation in the last three
years and how he had spent same with Mrs. Adeosun as minister
of finance.
"Mr. President should also allow an open inquest into his
handling, with Mrs Adeosun, of all our depleted foreign financial
instruments, including the Excess Crude Account (ECA), from
which funds were taken without recourse to the National
Assembly.
"President Buhari should also allow an inquest into his
administration's borrowing of over N10 trillion in 30 months, with
Mrs. Adeosun as minister of finance and the purposes for which
the money was used.
"We challenge President Buhari to allow an inquest into the leaked
memo at the Nigeria National Petroleum Corporation (NNPC)
showing N9 trillion corrupt oil contracts as well as the alleged
stealing of N1.1 trillion worth of crude oil, all in a sector under his
direct purview as Minister of Petroleum," the statement read even
as the party challenged the Presidency to open "an investigation
into the N18 billion Internally Displaced Persons (IDPs) intervention
fund and the N10 billion National Health Insurance Scheme (NHIS)
alleged to have been stolen from the Treasury Single Account
(TSA) by APC officials and Presidency cabal."

Mrs. Adeosun is currently enmeshed in NYSC certificate forgery
scandal; a development that is likely to intensify calls for her
replacement if proven to be true.
Don't forget to comment and share