News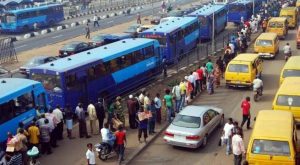 As part of Corporate Social Responsibility, Rights and Freedom Advocates (RIFA) organized a day symposium for transporters in Ogun State on what they should observe before and while on the roads. The programme held at MATS field opposite Egba High School, Asero, Abeokuta on Wednesday; November 3rd, 2021 started at 10:14am and was rounded off at few minutes before 1 in the afternoon.
In his welcome address, the Ogun State Mayor of RIFA; Mallam Sauban Tijani welcomed participants and highlighted challenges requiring attention which the lectures were expected to focus on.
The lecture delivered separately featured Nigeria Police Force, Traffic Compliance and Enforcement Corps (TRACE), Federal Road Safety Commission (FRSC) and Vehicle Inspection Service (VIS/VIO) of the Ministry of Transportation, Oke-mosan, Abeokuta and focused mainly on the basic security tips, driving and road rules, signs and precautions that commercial vehicle drivers and motorcycle riders should observe before and while on the road.
These tips were said to include adequate and valid documents, fire extinguisher, helmet, seat belt, non-defective vehicles or bikes, traffic light indicators, moderate speed while on the road, avoidance of alcohol, discriminate parking and being responsible at home so that family aggressions would not be transferred to other road users. These among others were highlighted as essentials for every road user.
The programme also witnessed awards of excellence to deserving police officer, TRACE officer and Vehicle Inspection officer while the Ogun State Sector Command of FRSC also received award. The first award recipient is W/SP Tanimu Zainab Umar who is a Superintendent of Police and the 2i/c of the Ogun State Traffic Division of Nigeria Police Force.
She is honoured for being a good ambassador of Nigeria Police. The Kano-born gallant and vibrant police woman and Bayero University, Kano graduate was rewarded with award of patriotic and selfless service to the Nation. She is the only police officer unianimously recommended and approved by members of the public for such a unique and first of its kind award by RIFA.
On the basis of her nomination, she was reported to always endeavour to resolve issues whenever misunderstanding occurs among public members. Besides, while other officers are usually eager for kickback from anyone accused of a crime, she would rather opt for how to resolve any issue without resorting to extortion. She was reported to always strive to explain rules and expectations to road users apart from serving as mediator among the public members even between officers and the public members that might have been unjustly reprimanded.
Her qualities distinguishing her were duly communicated to the Command leadership. The gallant police officer was awarded in line with Nigeria Police Act (2020) Section 92 which provides that "police officers who have distinguished themselves with their outstanding performance in the discharge of their duties shall be duly honoured and recognized for their gallant and exemplary service by the Police Force;
(a) by recommendation for national honours, attention being paid to deserving officers inclusive;
(b) through public presentation of awards and certificates of exemplary service from communities and civil society; or
(c) by the police setting aside a day or week in every year to celebrate outstanding performance by its officers and to remember their fallen heroes".
Unfortunately, some officers in the Ogun State Command of Nigeria Police Force played politics with her recognition and failed to inform her despite addressing same to the Commissioner of Police who sent powerful delegates to the programme. However, RIFA would follow up the issue even if requires the attention of the Force Headquarters on why the woman was prevented from receiving her honour.
Similarly, CRTA Micheal A. ADETAYO of the Ogun TRACE was honoured with award of diligent and passionate service to the State. On the basis of his nomination, he was said to always control traffic with enthusiasm and jokes that make road users to applaud his passion for the job.
He was said to always try as much as possible to ensure people obey traffic rules in the area where he operates whether he is on duty or not. He is said to always strive to explain rules and expectations to road users apart from serving as mediator among the public members.
Also, Commander (Engr.) Odunaiya O. Adekunle FCAI, IMMAN, NATE, COREN, MTM, B.Engr ; the Head of Task Force, Vehicle Inspection Service (VIS/VIO) in Ogun State was awarded with award of excellence in service to the State as he carries out his duties without motive of oppressing road users but enlighten them on how, why and when to ensure their vehicles are road worthy and particulars are up to date.
He is said to always strive to explain rules and expectations to road users apart from serving as mediator among the public members. The Ogun State FRSC received award for being most rapid response agency in time of emergency.
In attendance from the Nigeria Police Force were DSP Abimbola Oyeyemi; the Ogun State Police Public Relations officer (PPRO), Sgt Ezekiel Durosinmi and SP Adeyemi Olukoya; the 2i/c O/C legal. Barrister Kayode Olamide of the National Human Rights Commission, Ogun State office was also in attendance with Comrade Bayo Usman and Barr kayode presented the awards to the recipients while Mallam (Barrister) Tolani Abdulsalam was also present. Mrs Florence Okpe; the Ogun State FRSC Education officer with Mrs Adeola Ogundairo represented FRSC while Eng (Dr) Babalola T.A led the Ogun State Directorate of Vehicle Inspection Service/VIO comprising Engr Odunaiya, A.O (Awardee), Commander Aderiye, O.J, Mr Olaitan, O.O and Mr Sorinola O.A.
The Ogun State TRACE came in full force to honour their ambassador as the team was led by Commander Fatoberu Oluwatoyin (Mrs) who doubles as the State Chief education officer of TRACE.
In her company were Commander Toriola Abimbola and the Director of Administration and Supply (DAS) of TRACE; Mr Sotoyinbo, I.O. Also included in the team were Mr Oyeladun Adekunle, CTRA Adetayo Micheal (Awardee), Commander Olaleye B.A, and Commander Amoo Folarin. The team of journalists included representatives of Ogun State Broadcasting Corporation-OGBC (Miss Nurat Yusuf), FRCN paramount fm (Danjuma Jerome), Smash fm (Van Garuba), family fm (Jalal Ariyo) and Rockcity fm (Mr James Edafe) all in Abeokuta. Abeokuta.
In his votes of thank, the President of RIFA eulogized the guests for their early arrival and presence which facilitated early commencement of the programme, especially the Ogun State office of National Human Rights Commission for its collaborative effort at resolving issues of human rights abuse. He also prayed for the success of the Association and all the guests in attendance.
The programme ended with words of encouragement that security officers on the road should be more concerned on how to enlighten people to be law abiding as against being oppressive or exploitative on the road while road users were advised to always take caution while on the road and ensure their vehicles are road worthy before moving out same for use.
Luqman Soliu
President,
Rights and Freedom Advocates (RIFA)