News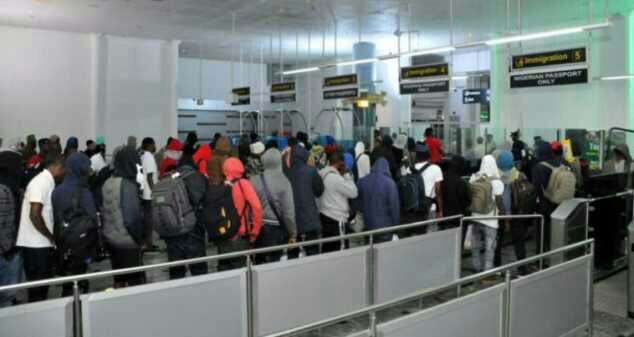 Nigerians who traveled to Russia for the 2018 World Cup Games, arrived the country on Friday night.Nigeria's Minister of Foreign Affairs, Mr Geoffrey Onyeama, was at the airport to monitor their arrival of 155 out of 230 Nigerian football fans stranded in Russia after the 2018 FIFA World Cup. Among the strandedNigerians was a nursing motherin her mid thirties.
The football fans arrived the Nnamdi Azikwe International Airport Abuja at about 9.12 p.m on July 20, through Ethiopian Airline flight number ET-ALP. Mr Geoffrey Onyeama who lauded President Buhari's effort to ensure their safe return, said that that the President directed that Nigerians, who were stranded in Russia after the 2018 World Cup tournament, should be evacuated immediately.
The Foreign Affairs Minister also added that there was also an allegation, that some airline travel agents cancelled return tickets of their customers without informing them."The aircraft departed Domodedovo Airport in Moscow with the stranded Nigerians in the afternoon and arrived in Abuja this evening."They were among the fans whotravelled to the Russian Federation for the 2018 FIFA World Cup Tournament and were stranded after the events due to lack of funds for their upkeep" he said.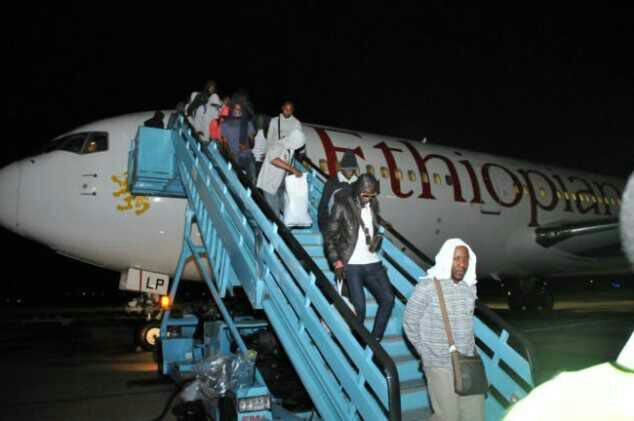 Onyeama said he had been working very closely with the Minister of State for Aviation, following President Buhari's directive on the evacuation exercise in Russia.The Nation reported that one of the returnees, Bamidele Fatai was full of praises to President Buhari for making their journey possible.
He also thanked the Nigerian Mission in Moscow forgiving them necessary support.Another returnee said he was swindled by an agent who cancelled his return ticket. He said he was in Moscow to support the Nigerian Football Team and to catch fun only to discover that his ticket had been cancelled when he was ready to return home.
Don't forget to comment and share