News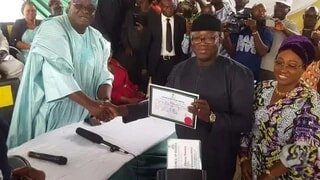 The Independent National Electoral Commission (INEC) has
issued a certificate of return to Dr Kayode Fayemi, the winner
of the governorship election in Ekiti state.
The national commissioner of INEC, Solomon Soyebi, presented the
certificate to the governor-elect on Wednesday, July 18, at the
commission's headquarters in Ado Ekiti, the state capital.
Dr Fayemi, 53, was the candidate of the All Progressives Congress
(APC) and a former minister of solid minerals development.
Receiving the certificate, Fayemi commended INEC and the security
agencies for a job well done, stating that serious governance has just
started for him.
The APC candidate polled 197,459 votes while his closest rival,
Professor Kolapo Olusola of the Peoples Democratic Party (PDP)
had 178,121 votes, a margin of 19,338.
Meanwhile, Rivers state governor, Barrister Nyesom Wike, has declared that what transpired during the Ekiti governorship election is the worst political robbery in the nation's democratic history.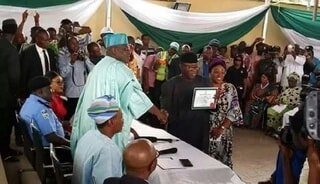 The governor made the comment on Sunday, July 15, at the Anglican Cathedral Church of Saint Paul, Port Harcourt during the Thanksgiving Service to mark the end of third year anniversary celebration of his administration.

"I have never experienced that kind of robbery in politics. I told my
colleagues, do not give them any chance. Most of them in APC are
happy that they will repeat the same thing in Rivers state, we are waiting, come and repeat. Let your spirit not be down, work hard and victory will be ours," he said.
Don't forget to comment and share