REVIEW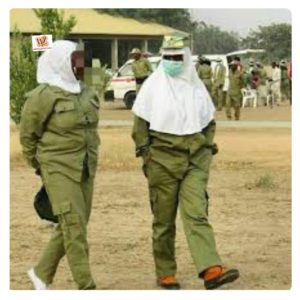 As Nigeria marked her 2019 Independence-day anniversary on October 1, the National Youth Service Corps (NYSC) established after the nation civil war as a unification facilitator has finally grudgingly bowed to the yearnings of one of the most oppressed Nigerians- the women.
It was reported by some sections of the media that the authority of NYSC approved shoulder-length hijab to willing female corps members in line with their inalienable rights as enshrined in Section 38 of 1999 Constitution of Federal Republic of Nigeria (FRN) as amended which allows manifestation of one's faith either as a group or individual.
Rights and Freedom Advocates (RIFA) laud this freedom which actually depicts the meaning of independence which Nigeria marks every October 1.
Dressing is for identification of each person or group and culture represents the common way of life of a people while rules and regulations represent the standardised ways of people of a community who must jointly determine what satisfies their different groups' standards and not that a particular group should be imposing its own way of life on other members of the community with different culture.

Invariably, people of a community are supposed to have their representatives at any critical programme where any affair that would affect them is to be determined.
Therefore, any authority or group that foist its ideology and way of life on others is purely a terrorist and extremist. If hijab wearing does not add to or remove from the properties and freedom of those who are paranoid of hijab users, can hijab haters claim to make sense in their opposition to hijab usage or just don't want freedom for others?
To real Muslims, a woman going out of her home without hijab is like walking nakedly before the whole world. That is why you see women familiar with hijab finding it difficult to work in any place that would expose their nakedness.
The evil of corruption in our national lives could not have been so rampant if hijab users have dominated our public lives as they represent the best ethos our society needs to advance.
Look at any aspect of our lives with worst record but first in corruption and evils such as rape, fraud, kidnapping, robbery etc, hijab haters would be champions.
For hijab haters, seeing women nudity even in offices or streets is the latest fashion and or their preference. But for those who decide to honour their bodies, why should they be disturbed if they don't disturb womanisers and their customers?
Why the headache of hijab haters for another person's choice?
Do hijab opponents ever think of implication of their action?
How would opponents of hijab feel if it is imposed on them or their children?
So, the same way they will feel if imposed on them or their children is the same way those they oppress not to use it feel.
Therefore, if not covetous of the beauty of hijab users which perhaps they believe will de-market non hijab users being produced by such people, let others live with their freedom.
At least, those who relate with hijab users are more comfortable, safe and at peace with themselves as their resources are safer than when with those not using hijab.
RIFA note that even most of the advanced countries that colonized most hijab haters' mentality have embraced reality by approving hijab in their national lives including uniforms.
For instance, New Zealand, Scotland, U.S and so on have jettisoned fanaticism and accommodated hijab in their daily lives including designing hijab for military and paramilitary uniforms.
Therefore, Nigeria should also modify its military and paramilitary uniforms to accommodate those that prefer to use hijab as this will help the nation forces reclaim their lost glory.
This is because people using hijab are mostly embodiment of highest moral standard in our societies but have been prevented from joining the nation forces because they cannot compromise their value and virtue.
The Nigeria forces especially the Nigeria Police, Nigeria Security and Civil Defence Corps, Federal Road Safety Corps (FRSC), Nigeria Drug Law Enforcement Agency (NDLEA), Nigeria Immigration Service, Nigeria Custom Service, Nigerian Air force, Navy and Army as well as other similar agencies of government including schools should stop being anti-Nigeria and adopt modernism in their operations by incorporating hijab in their uniforms.
Until such is done, only a section of Nigeria is independent and that is those opposing use of hijab. It should even be a shame that one should oppose hijab which was not forced on him or her.
RIFA urge those colonised in their father's land to intensify their agitation against oppression as they are the real activists while their oppressors are the real terrorists and fanatics.
It is only then when their freedom is guaranteed like others that Nigeria could talk of genuine independence.
Luqman Soliu
President,
Rights and Freedom Advocates (RIFA)
Don't forget to comment and share