Football Highlights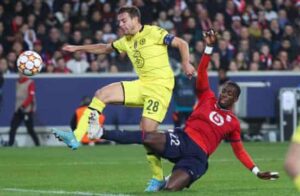 Download Football Video: Lille vs Chelsea 1-2 Highlights #LOSCCHE .
Lille vs Chelsea 1-2 Highlights Download: UEFA Champions League (UCL) – March 16th, 2022. 
#LOSCCHE #LFC #UCL #CFC . 
Lille vs Chelsea's match started with full attacking forces and both teams scored at first half.

Very necessary, great finish. Jorginho with a lovely pass to put him in.
Chelsea come forward again trying to find a way through Lille's shape and press. Slow going at the moment.
Alonso hits the wall from a free kick, and Lille clear the resultant corner. Won't be surprised if we see a change at half time to invigorate some life into the Blues.
Jorginho's arm comes down onto the ball. No intention but the referee is heading to have a look.
ALSO SEE: Chelsea vs Newcastle United 1-0 Highlights (Download Video)
First involvement is for Chalobah to drag down Jonathan David.
Trevoh Chalobah preparing to come on as Andreas Christensen is seen by the Blues' medics.
Xexa connects with a header and hits the post with Mendy beaten all ends up. Looked destined for the net.
The young defender goes up for a header but is beaten by Yilmaz in the air. Doesn't look too much in it but the Blues' medical staff are on to treat Chalobah.
A few near chances, but Sven Botman is really struggling for Lille and doesn't look like he'll be able to continue.
Lille get us underway. Back to a more familiar formation with Mount's return.
That equaliser was very necessary for the Blues who hadn't looked too threatening. They have class as Jorginho once again orchestrated and Pulisic showed how good he is when through on goal.
Tuchel will still want to see more from his side who have had a lot of possession but not too much control.
OR WATCH FOOTBALL VIDEO BELOW
Check out the latest Chelsea highlights and goals here
Check out the latest Lille highlights and goals here
Don't forget to comment and share