Football Highlights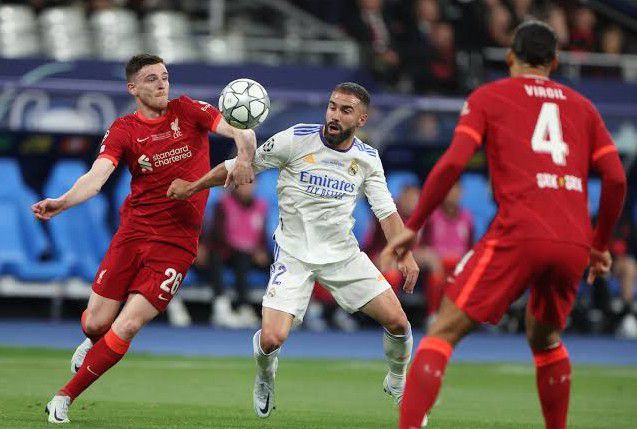 Download Football Video: Liverpool vs Real Madrid 0-1 Highlights #LIVRMA . 
Liverpool vs Real Madrid 0-1 Highlights Download: UEFA Champions League (UCL) – May 28th, 2022. 
#UCLFinal #UCL #ChampionsLeague #LIVRMA #RMALIV #Liverpool #RealMadrid #LiverpoolRealMadrid #UEFA .  
Liverpool vs Real Madrid's match started with full attacking force.
Benzema scowls as the whistle goes for half-time. Nothing to separate the teams at the break but after Liverpool's dominance, Real Madrid had the best chance of the half but Benzema's goal was chalked off.
That was a long, long check. Benzema was in an offside position but the decision was whether Valverde or Fabinho played the ball to him.
Eventually it's decided that it was the Real Madrid player who got to the ball first and the goal doesn't stand. That took about three minutes which is how much is being added on before half-time.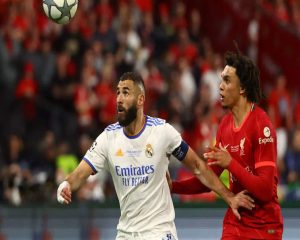 Disallowed goal! A long diagonal ball comes over the top as Karim Benzema makes a run inside the box. He brings it down and cuts inside of Andy Robertson. Alisson comes out to close him down but Benzema loses it.
The ball bounces off the goalkeeper, Valverde and Fabinho converge on the ball which squeezes out to Benzema who curls it into the open net. The offside flag goes up but it's going to be checked by VAR.
Vinicius Jr releases an aerial cross for Benzema inside the Liverpool six yard box.
What a save from Real Madrid keeper Courtois to deny Mane. The Liverpool striker shot itstraight to Real Madrid keeper Courtois from 15 yards out. 
This time Salah shoots it straight to Real Madrid keeper Courtois from 15 yards out.
Liverpool making all the moves towards the opponents box so far, but still no shot on goal. 
OR WATCH FOOTBALL VIDEO BELOW
Check out the latest Real Madrid highlights and goals here
Check out the latest Liverpool highlights and goals here
Don't forget to comment and share