News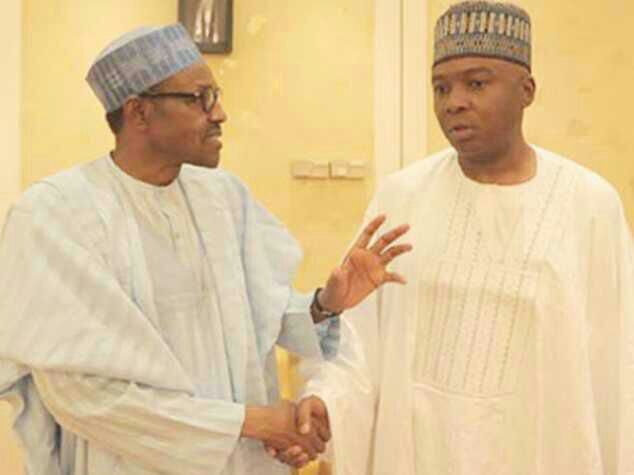 Timi Frank, the immediate past Deputy National Publicity Secretary of the All Progressives Congress, APC, has said that the party's National Chairman Comrade Adams Oshiomohle, deceived President Muhammadu Buhari to depart for London after promising him (Buhari) that he (Oshiomhole) will remove the Senate President, Bukola Saraki, within 10 days.
Frank was reacting to yesterday's invasion of the National Assembly by men of the Department for State Service, DSS.
The former APC chieftain berated Oshiomhole for denying allegedly
having anything to do with blockage of the National Assembly and the attempt to impeach Saraki.
Part of Frank's statement said, "Why is Oshiomhole lying when every Nigerian knows that he is the one out to foist a new leadership on the Senate at all cost even when he knows that the APC lawmakers lack the two-third constitutionally stipulated number of Senators to legally remove Saraki and Ekweremadu?

"Nigerians must not be deceived, Oshiomhole is a dictator. He does not like anything democratic. He only mouths democracy when he has something to gain but when his interest is at stake like it is right now, he is usually forced to show the dictatorial stuff he is made of.
"Besides, having deceived President Buhari to leave for London and give him 10 days to remove Saraki, he is now quick to wash his hands off the dirty plot now that he seems to have failed to deliver on his evil promises.
"Thankfully, a friend just sent me a Whatsapp photo of Buhari purportedly watching Oshiomhole's instigated malfeasance at the
National Assembly gate. If that photograph is true, I want Buhari
to know that he has been deceived by Oshiomhole. Nigerians want the rule of law and due process to be followed in order to deepen our democracy not crude tactics now being employed by Oshiomhole.
"Besides, any resort to self-help will never fly with Nigerians because they know the price those who fought for democracy in the country had had to pay to bring us to where we are today.
"Once again I call on Nigerians and members of the international
community who are now rightly horrified by this coup against
democracy in Nigeria to hold Oshiomhole responsible for any
breakdown of law and order capable of truncating democracy in the country," he stated.
Frank also urged Nigerians not to accord the statement credited to
the Acting President, Yemi Osibanjo purportedly condemning the invasion of the National Assembly with any modicum of believability.
"They are acting a script. They want to frustrate the National Assembly and by extension destroy democracy for selfish reasons," he said.
Don't forget to comment and share