Football Highlights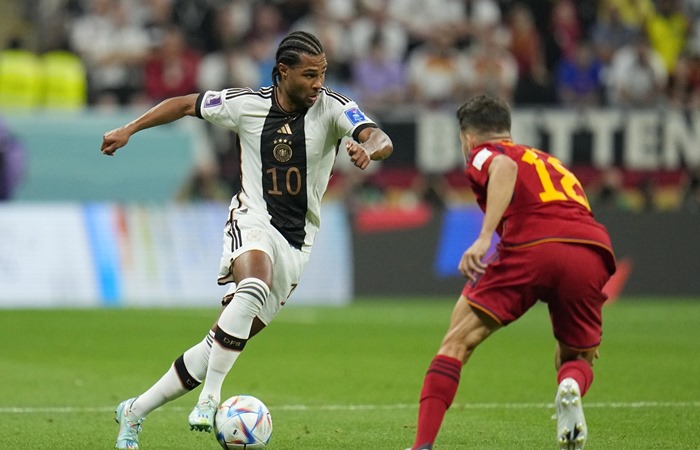 Download Football Video: Spain vs Germany 1-1 Highlights #SPAGER.
Spain vs Germany 1-1 Highlights Download: FIFA World Cup (Qatar) – November 27th,  2022.  
#QatarWorldCup2022 #Qatar2022 #FifaWorldCup #Qatar #SPAGER #GERSPA #Germany #Spain . 
The group E second round of Qatar 2022 World Cup between Spain & Germany started with full attacking forces.
Sane feeds Musiala who keeps the move alive in the penalty area. It bundles through and Fulkrugg takes over, firing a vicious strike beyond Simon and into the top corner from the right-hand side.
Sane and Musiala combine before Sane went down in the area.
Brilliant from Goretzka to slide back and win possession, and suddenly Germany spring forward! Sane is played in and has Fullkrug to his right, but he tries to go around Simon! The Spain goalkeeper sees it out and then collects the corner!
Plenty of penalty appeals, but it was a perfectly timed tackle.
Fullkrug then runs into Busquets and is awarded the free-kick in a great position. Sane and Kimmich are behind it.
Do either team have a big finish? This kind of suits both of them. Spain are fine with a draw, while Germany would have bitten your hand off for a point after going behind.
Sane played a neat reverse pass insde to Musiala who went for power against Simon.
The keeper stood tall as it smashed against his arm and out for a corner.
A touch more composure and Germany are level.
Let off again for Spain, and Simon! The goalkeeper rolls a risky pass out to Pedri, with Kimmich breathing down his neck. Germany win it back and Kimmich is teed up for the shot, which is saved by Simon to his right.
OR WATCH FOOTBALL VIDEO BELOW
Check out the latest Spain highlights and goals here
Check out the latest Germany highlights and goals here
Don't forget to comment and share