Football Highlights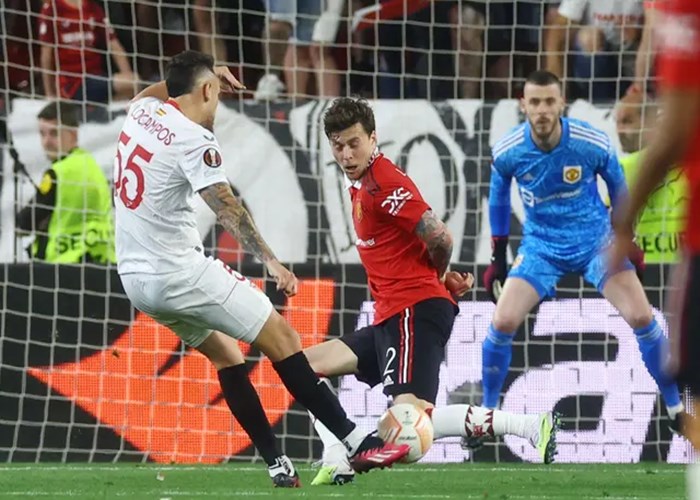 Download Football Video: Sevilla vs Man United 3-0 [AGG 5-2] Highlights #EuropaLeague.
Sevilla vs Man United 3-0 [AGG 5-2] Highlights Download: UEFA UEFA League (UEL) – April 20th, 2023. 
#MUFC #ManUtdSevilla #MUNSEV #UEL #UEFA #EuropaLeague .  
Sevilla vs Man United's match started with full attacking forces.
Suso shoots. Deflected. From the resulting corner, El-Nesyri is afforded a clear header, 12 yards out. He mistimes it. Factor in the chance he fluffed from a couple of yards and the big striker should have a couple of goals to his name. Sevilla should be out of sight.
When watching the second goal again, it's clear De Gea should have done better, which means he's arguably been culpable for both. He's in talks over a new deal, but it's not too late for the club to change their stance, withdraw from negotiations and look to sign another goalkeeper.
De Gea simply has not evolved as a goalkeeper over the last few years.
Casemiro gets a silly yellow card now. He'll be suspended if they do somehow manage to turn this around.
Shaw crosses deep from the left. Acuna deals with the danger at the far stick. Shaw's looked pretty lively since coming on.
ALSO SEE: Inter Milan vs Benfica 3-3 Highlights (Download Video)
Antony is booked for a petulant kick out at Acuna. He sarcastically shakes the referee's hand, which is bold, given some officials might have sent him packing.
Luke Shaw and Marcus Rashford are coming on. Two sensible subs. United have looked imbalanced with two right-footers at full-back (provided it is a full-back who makes way). Rashford has to come on and it has to be Sancho who goes off.
Weghorst, always a willing worker, makes a nuisance of himself down the right flank, but is eventually guided down a dead end. An awful lot of whistling when United have possession. It's a cauldron all right.
Given there is one change to the team that beat Forest, this game goes to show how vital Fernandes is and how dreadful Forest are, Sevilla are not a good side and that makes this all the more abysmal from United. There have been some truly gutless performances from some out there.
OR WATCH FOOTBALL VIDEO BELOW
Check out the latest Manchester United highlights and goals here
Check out the latest Sevilla highlights and goals here
Don't forget to comment and share