Football Highlights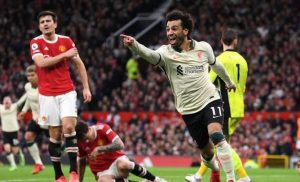 Download Premier League Football Video: Manchester United vs Liverpool 0-5 Highlights #MUNLIV. 
Manchester United vs Liverpool 0-5 Highlights Download: Premier League Result – October 24th, 2021. 
#MUNLIV #EPL #ManUtd #Liverpool #PremierLeague. 
Manchester united was thrashed at Old Trafford by Liverpool in English Premier League Competition.
Paul Pogba sees red and sent off after a VAR check. 
Mohammed Salah hit hat-trick. 
Cristiano Ronaldo booked a yellow card.
Ronaldo scored but ruled out as offside after a VAR check. 
There is not so much a smoking gun as a bonfire of smoke to change manager here. This is intolerable. If United could substitute Fergie for Solskjaer they would. He cannot survive this.
Gary Neville not waiting for the corpse to stop twitching before he begins the post-mortem. This is very enjoyable.
ALSO SEE: El Clasico 2021: Barcelona vs Real Madrid 1-2 Highlights Download
The fans are streaming out of Old Trafford. I hope Keita is okay. That looked nasty. Alex Oxlade-Chamberlain is coming on to replace Naby Keita. Diogo Dalot and Edinson Cavani on. Bruno Fernandes and Marcus Rashford come off. Lucky them.
This has been horrific and he cannot be the only one to go. Get Woodward out ASAP. Get Arnold out. Get Phelan and the second-rate coaches out, too.
It was billed as a battle between Mohamed Salah and Cristiano Ronaldo – one of them has a hat-trick and the other is lucky to still be on the pitch.
Ronaldo has the ball in the net, but he is offside. This could hardly get any funnier. Sensational entertainment from the Barclays
Salah wants more. He's having a go at Jota, he reckons that his colleague should have slipped him a better pass there. Liverpool have had 88% of the ball in the last ten. One of the great Premier League batterings.
DOWNLOAD VIDEO
OR WATCH FOOTBALL VIDEO BELOW
Check out the latest Manchester United Highlights and Goals here
Check out the latest Liverpool highlights and goals here