News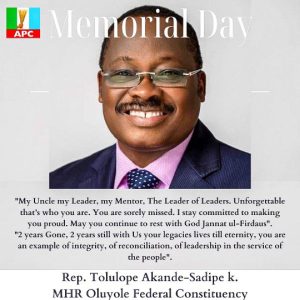 Member, House of Representatives, Tolulope Akande-Sadipe, has written a heartfelt tribute to mark the second anniversary of the former Governor of Oyo State, Sen. Abiola Ajimobi's death.
The immediate past governor, who governed the state for two consecutive terms of eight years, died on June 25, 2020 at a Lagos hospital following reported complications arising from Covid-19 infection.
The late Ajimobi died at the age of 70 years and at the time of his death, he was the deputy national chairman (South) of the All Progressives Congress (APC).
The Oluyole Federal Rep. who shared the tribute on her verified social media handles, revealed that no day passes without thoughts of his sterling performance in Oyo State flashing through her mind.

Akande-Sadipe added that though he is gone, he is however not forgotten.
"My Uncle my Leader, my Mentor, The Leader of Leaders. Unforgettable that's who you are. You are sorely missed. I stay committed to making you proud. May you continue to rest with God Jannat ul-Firdaus". "2 years Gone, 2 years still with Us your legacies lives till eternity, you are an example of integrity, of reconciliation, of leadership in the service of the people…", she wrote.
E-signed:
Olamilekan Olusada,
SA Media and Publicity.