REVIEW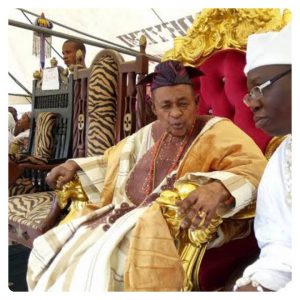 The president of RIFA, Mr Luqman Soliu has revealed how
Oyo People including Alaafin tried to
relocate the approved squadron headquarter to Oyo town.
The full statement of Mr. Soliu reads;
The Special adviser to Oyo State governor on Security Matters; Mr Fatai Owoseni at a meeting convened by the then Police Commissioner in the state; Mr Shina Olukolu where traditional leaders, hunters, etc were in attendance disclosed on September 26, 2019 that the Inspector General (IG) of Police had approved additional mobile police squadron for Oyo State and that it would be sited in Oke-Ogun. This was published by sun newspaper on September 27, 2019.
It was at the same meeting that the National Communication Commission (NCC) approved emergency security number-615 for the state, was first announced. But since traditional leaders were at the venue where the announcement was made, Alaafin immediately started his furtive move to override the Police IG by writing President Muhammad Buhari, Vice President Osibanjo, Police Service Commission and Inspector- General of Police through letters dated December 2, 2019 and 14 February, 2020 to relocate the approved squadron headquarter to Oyo town citing flimsy claims.

Now, the State government in its wisdom fulfilled its promise of locating the mobile police squadron headquarter in Ago-Are and some people were complaining for having their selfish and treacherous ambition truncated. May you continue in such rage o!
Sincerely, if not some sons and daughters of Oke-Ogun including some traditional leaders who have sold themselves and still paying homage to their son; Alaafin of Oyo who has been working against Oke-Ogun interest in every front including attempt to get a state, Alaafin would not be robbing Oke-Ogun of the little blessings it has gotten from patriotic Nigerians.
When Ajimobi turned Oyo state commissioners to royal affairs giving slots to Olubadan, Soun and Alaafin, Oke-Ogun was ignored.
The only school of survey and the special federal college of Education in Nigeria are in Oyo town. Can Alaafin and his stooges identify the Federal educational institution in Oke-Ogun?
Oyo plays host to many federal, state and private tertiary educational institutions apart from other Federal parastatals such as FIRS, National park, etc, why was he always against Oke-Ogun who are its parents?
Or is Alaafin oblivious of the fact that he is a son to Igboho?
I hope Oke-Ogun indigenes and monarchs would honour themselves and separate the chaffs from corn by saving us from Alaafin perennial hatred for development of Oke-Ogun region.
ALSO SEE: South-South Governors Are Jingoistic And Perfidious Citizens – RIFA President
Luqman Soliu
Abeokuta, Ogun State
Don't forget to comment and share