News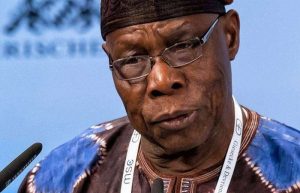 A former Director, National Orientation Agency (NOA), Bamitale Oguntoyinbo has hit out at former president, Olusegun Obasanjo for calling for the cancellation of last Saturday's Presidential and National Assembly elections.
Oguntoyinbo described Obasanjo as a beneficiary of democracy, which he did not work for, adding that his tenure as president of Nigeria was characterised with anti-democratic tendencies.
He said this while calling on Yoruba leaders and leaders in Nigeria to caution Obasanjo on his Monday call for the cancellation of the recent general election.
"The tenure of Olusegun Obasanjo as the President from 1999 to 2007 was characterised with anti-democratic tendencies," Oguntoyinbo told NAN on Tuesday in Ado-Ekiti.

"It was an era of imposition of candidates for elective positions, ticket hijacking and unconstitutional removal of governors at the state level."
Oguntoyinbo, therefore, advised Obasanjo to sit down quietly at home "if he has no good ideas on how to support the current democratic dispensation in Nigeria," he added.