Football Highlights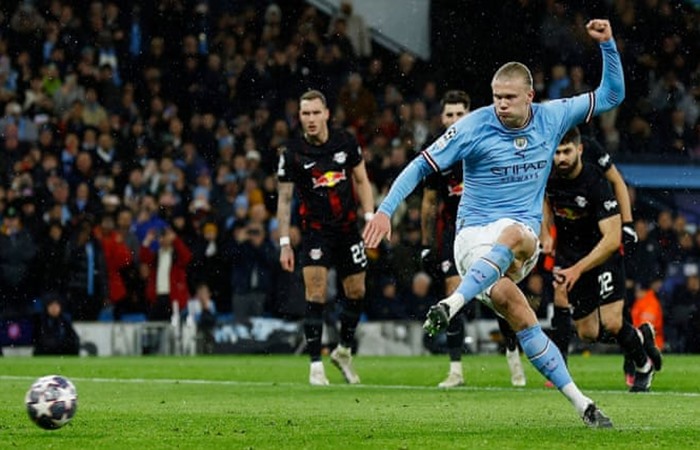 Download UCL Football Video: Man City vs RB Leipzig 7-0 [AGG 8-1] Highlights #MCIRBL.
Man City vs RB Leipzig 7-0 [AGG 8-1] Highlights Download: UEFA Champions League (UCL) – March 14th, 2023. 
#MCIRBL #RBLMCI #MCFC #RBL #UCL #ChampionsLeague #UEFA .  
The match between Manchester City & RB Leipzig started with full attacking forces.

De Bruyne wins a corner down the left. Grealish takes and hits it long. Dias rises at the far post and plants a header onto the post. The ball bobbles along the line. Haidara tries to hook clear but only manages to knock the ball onto Haaland's shin, and it whistles in from a couple of yards!
Manchester City's offside trap is working well tonight, even if some of those offside decisions may have been favourable.
Every time City press Leipzig into a mistake or hold the line until the flag goes up, Pep Guardiola is at his most animated – applauding the defence and urging them to reset.
Man City have been as good in this first half as they were in Leipzig, this time getting more than one goal. Guardiola's message to his player at half time will surely be the same – prepare for a better opposition in the second half. This time, City have a useful two goal cushion.
De Bruyne's free-kick is shrewdly threaded through to Gundogan in the area, and the German fires his shot across goal.
Blaswich dives well and gets a firm right hand to the ball, keeping his side in the contest.
De Bruyne rolls a free kick down the right to release Gundogan into the box. Easy as that! Gundogan's slapshot is parried, and somehow evades Haaland in the middle. He's after that hat-trick! Getting ever closer.
After those two goals put City in control, you feel the only way they can throw this away is of their own doing. Ederson's rash challenge outside of the area and then the sloppy chance given away moments later fall firmly under 'self inflicted' moments that Guardiola will want to avoid.
RB Leipzig and their staff are getting frustrated at the decisions going against them, so as long as City keep their heads, they know how to see this game out.
Out of nowhere, snow is chucking it down at the Etihad… the weather could be more of a threat to City than Leipzig at this rate!
Haaland has another chance as he fires a snapshot on goal, but Blaswich denies the Norwegian a first-half hat-trick…

OR WATCH FOOTBALL VIDEO BELOW
Check out the latest RB Leipzig highlights and goals here
Check out the latest Manchester City highlights and goals here
Don't forget to comment and share