News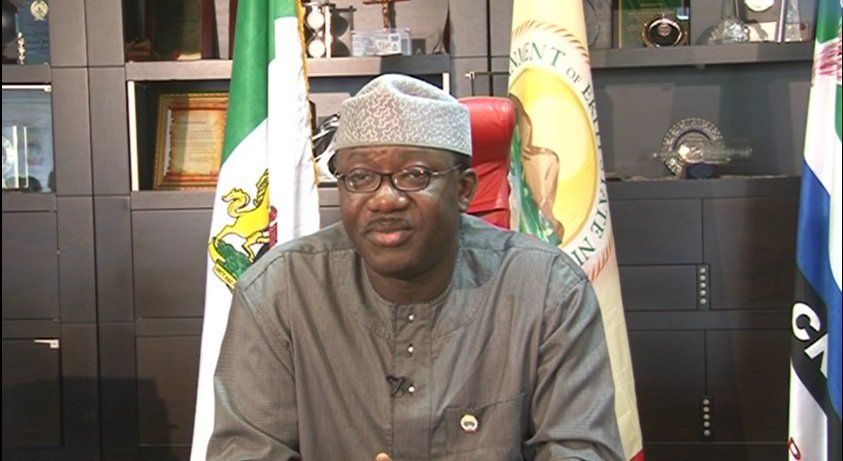 Having been elected in the fiercely-contested July 14 governorship election, former Minister of Mines and Steel Development, Dr. Kayode Fayemi, was Tuesday sworn-in as the new Governor of Ekiti State, with President Muhamadu Buhariexpressing confidence in the ability of the new governor to deliver democracy dividends to the people.
Fayemi trounced the candidate of the Peoples Democratic Party(PDP) in the poll, Prof Kolapo Olusola, with a marginal victory of about 19,028 votes.
Buhari, who was represented at the event by the Secretary to the Government of the Federation (SGF), Boss Mustapha, said Fayemi as a former member of the Federal Executive Council (FEC), had persistently been disturbing him about the development of the state.
Fayemi, who was clad in white Agbada and brown 'Awolowo cap' to march, was sworn-in by the Chief Judge of the State, Justice Ayodeji Daramola, amid cheers from admirers and party members, who were decked in Aso Ebi and filled the main bowl of the Ekiti Parapo pavilion along old Iyin road, Ado-Ekiti capital city, at about 11.45am.
Earlier, the Deputy Governor-elect, Chef Bisi Egbeyemi took the oaths of office and allegiance at about 12.20pm.

The Governor also inspected the guard of honour, after a police parade that ushered in his government.
Dignitaries at the ceremony include: former Lagos State governor, Asiwaju Bola Ahmed Tinubu, Chief Bisi Akande, National Security Adviser, Babagana Monguno, Minister of Agriculture, Chief Audu Ogbeh, Former Senate President, Chief Ken Nnamani, ex-APC National Chairman, Chief John Oyegun and former Ekiti State Governors, Otunba Niyi Adebayo and Bamidele Olumilua.
Governors at the event were: Governors of Ogun, Ibikunle Amosu; Oyo, Abiola Ajimobi; Kebbi, Atiku Bagudu; Kadina, Nasir El-Rufai; Lagos, Akinwumi Ambode; Ondo, Rotimi Akeredolu; Bauchi, Mohammed Abubakar, among other Nigerians and members of the diplomatic corp who graced the occasion.
The President added that Fayemi, assuming the governorship of the state, would afford him the opportunity to redirect Ekiti to the path of greatness and abundance in terms of economic prosperity.
Buhari pleaded passionately with Ekiti voters over his re-election bid in 2019, saying he has a lot to offer Nigerians if given a second term during the contest with former Vice President Atiku Abubakar and presidential candidate of the PDP.
He said: "I know Dr Fayemi very well, he has always cherished anything that has to do with the development of this state. As Ekiti governor between 2010 and 2014, he instituted some laudable projects that impacted positively on the lives of the people and this pavilion was one of them.
"I know that he will do what is right to justify this mandate. I charge him not to relent in his efforts to serve Ekiti with passion, commitment and candour.
"FG has given supports to states in the areas of bailouts, budget support, ecological funds and Paris club refund, of which Ekiti was a beneficiary.
"We have extended the standard rail project to Ekiti and the construction of the Federal Secretariat will soon be completed. The FG is also planning to dualise Ado-Akure road and reconstruct Ado-Ikare road for the use of our people. We have also built another 133kva power source in Ekiti that will be commissioned soon.
"As of today, 11,000 Ekiti indigenes are benefiting from the N-power programme of this administration.
"We are confident that Dr. Fayemi will help cover the lost grounds brought by past administration. From today, you will begin to have a new breath in Ekiti under the present government," Buhari said.
Speaking earlier, Fayemi said his government would work hard to bring succour to the populace, by removing the canker worm of corruption that has eaten deep into the state's fabrics under the PDP-led government of Governor Ayodele Fayose.
He revealed that all the finances of the last administration shall be reviewed but not in a vindictive manner, saying this became imperative to ensure that the culture of prudence and financial propriety are brought to bear in the governance of the state.
Fayemi lamented that the state is indebted to the tune of N170 billion being loans taken to undertake some projects during the last administration, assuring however that the challenge won't impede his government from delivering dividends of democracy to the citizens.
The former minister stated that Ekiti under him won't slide and degenerate to the level of allowing school children to pay various taxes in their quests to receive formal education.
He promised that his government shall reinstate the N5,000 social security to the elderly and make tremendous positive impacts in the areas of agriculture, social investment and economy.
"In the last four years, Ekiti was governed by a rudderless, inept and egregiously corrupt government, which was led by those who deceived our people through the instrument of stomach infrastructure.
"In this context, never again will Ekiti slip into the hands of those who knew nothing about governance, never again shall we allow our school children to pay taxes, never again shall we abandon the burgeoning resources at Ikogosi Warm Spring to waste, never again shall we allow our judiciary to be debased by draconian government and never again shall the most educated State like Ekiti be apostle of stomach infrastructure that has made us laughing stock.
"In our quests for economic rejuvenation, our government shall invest heavily in Youth in commercial Agriculture, because Ekiti is basically agrarian, reactivate community based projects, tap into our tourist potential and ensure security of local and foreign investors.
"As of today, the debt profile and other financial commitment hanging on the state look challenging, but with your supports, we shall overcome. The light shall shine again. We shall celebrate our core values of scholarship, knowledge , hardwork, unity and strong characters bequeathed to us by our founding fathers.
"We appreciate our fathers who fought for the creation of this state in 1996 and I want to assure them that we shall keep the flag flying and make sure we don't disappoint them by fulfilling their dreams and aspirations within the next four years.
"We shall network with the federal government and other local and international bodies to bring the dividends of democracy Ekiti people deserve to their doorsteps," Fayemi assured.
Don't forget to comment and share