Football Highlights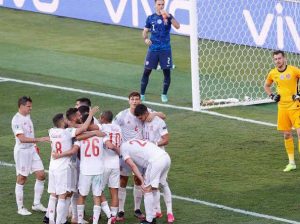 Download EURO 2020 Highlights: Slovakia vs Spain 0-5. 
Slovakia vs Spain 0-5 Highlights Download: EURO 2020 Result – June 23rd, 2021. 
An absolute stroll for Spain – but they will have to be content with second-place and a meeting with Croatia.
Big goal in St. Petersburg – Spain are going through, but they're going through as runners-up because Sweden have got a late winner against Poland.
Big news from St. Petersburg – Poland have equalised against Sweden and as things stand that would see Spain top the group. 
Not quite sure how that's stayed out. Alba jinks down the left again and fires across the face but two men in white can't quite apply the finish touch.
We are going to see Adama Traore. This could be a bit of fun. Moreno makes way.
Another one! First touch! Pau Torres is on and heads at goal – he'll claim it but I reckon this'll go down as a Juraj Kucka own goal as he tries to clear behind his goalkeeper.
With his first touch! Slovakia have absolutely gone here. They switch off as Spain work a lovely short corner move and it ends with Ferran Torres backheeling in from a yard or two.
OR WATCH FOOTBALL VIDEO BELOW
Check out the latest Spain Highlights and Goals here
Don't forget to comment and share