Football Highlights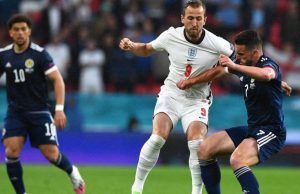 Download EURO 2020 Highlights: England vs Scotland 0-0 #ENGSCO. 
England vs Scotland 0-0 Highlights Download: EURO 2020 Result @ Wembley Stadium – June 18th, 2021. #ENGSCO #EURO2020 
Dykes tries to wrestle Mings off the ball in a 50/50 to get through on goal – Scotland want a free-kick, but the referee is unmoved… but he does book McGinn here, presumably for something he said. What a needless booking to pick up, especially in midfield.
Kalvin Phillips commits his second foul of the game – it's soft, but refere Antonio Miguel Mateu Lahoz wants a word. You'd expect the next one will be a bookingm even though there was little in that one.
More danger now for Scotland as McTominay is caught at the back by Sterling, who cuts the ball back across the six-yards box… but Mount passes wide at the near post! Another huge let-off for the Scots… 
The corner comes in, Stones rises to meet the ball unmarked, and he crashes a header off the woodwork! Stones almost got up a little too early there, and got slightly caught underneath the ball as he guided it onto the post – had he timed that jump just a little better, it was a simple finish.
Mount shapes the ball 25 yards out and tries to curl one into the far corner with his right foot, but the ball is deflected out for a corner – good defending.
It's a great delivery, but Mings stretches well to head the ball away from a dangerous position.
Scotland win a free-kick off Phillips on the left flank – silly to concede one there given the visitors will fancy their chances from set-pieces.
DOWNLOAD VIDEO
OR WATCH FOOTBALL VIDEO BELOW
Check out the latest England Highlights and Goals here
Don't forget to comment and share