Football Highlights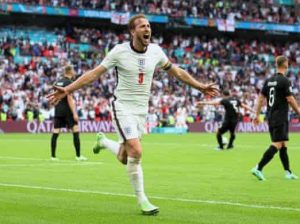 Download EURO 2020 Highlights: England vs Germany 2-0 #ENGGER. 
England vs Germany 1-0 Highlights Download: EURO 2020 Result – June 29th, 2021. #EURO2020 #ENGGER .  
Peep! A tense, cagey, tight 45 minutes of football draws to a close. Chances have been at a premium but Timo Werner missed the pick of Germany's, while Harry Kane should have fired England ahead just before half-time. He took a touch too many when through on goal at the edge of the German six-yard box and missed an absolute sitter.
A dreadful pass by Thomas Muller is intercepted by Sterling, who advances through the centre. He charges forwards and is tackled on the edge of the Germany penalty area. The ball squirts towards Kane, who looks like he can't miss … but Mats Hummels sticks out a leg and relieves him of possession as he tries to take the ball around Neuer. That was close!

Kalvin Phillips gets booked for a meaty challenge on Toni Kroos. Both England's holding midfielders are on yellow cards.
Trippier takes a quick one and tries to stand the ball up at the far post for Kane but Mats Hummels is alert to the danger and gets to it first. It's a corner for England, which Hummels clears with another good header.
Harry Kane drops deep to midfield and plays a high ball through the centre for Phillips to chase. He's not quick enough to reach it and Germany clear. Reverse the roles in that scenario and it could have been an entirely different story.
OR WATCH FOOTBALL VIDEO BELOW
Check out the latest England Highlights and Goals here
Check out the latest Germany Highlights and Goals here
Don't forget to comment and share