Football Highlights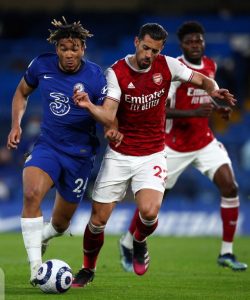 m
Download Football Video: Chelsea vs Arsenal 0-1 Highlights.
Chelsea vs Arsenal 0-1 Highlights  Download: Premier League Result – May 12th, 2021. 
#CHEARS #CFC #AFC #EPL. 
The Blues force a couple of corners that don't come to anything. Starting to knock on the door.
Azpilicueta did really well, found Pulisic at the byline and Mount meets the USA star's cutback flush but Rob Holding produces a fine block.
Jorginho gifts Arsenal a goal on 15 minutes. Emile Smith Rowe gets his second Premier League goal for the Gunners after Aubameyang puts it on a plate for the England youngster.
Arsenal coming back into the game after Chelsea's second half pressure. Odegaard has struggled tonight and skies his shot over the crossbar.
Kai Havertz bursts through after Pablo Mari's error and has just Bernd Leno to beat but he completely skies it. Really bad miss, Chelsea should be one up.
Mason Mount gets an effort away from a tight angle but it's comfortable for Bernd Leno.
It's a happy environment. I can see the way he works and now I can understand him when I watch Chelsea. It was brilliant for me as a young coach, he has got the players onside. The unforced errors are gone but so far, he has done a great job. Hopefully next season will be even better.
The visitors lead at the break thanks to Emile Smith Rowe's strike as Arsenal pounced on a howler from Jorginho. Chelsea have huffed and puffed but cannot break through the Gunners' 10-man block, Kai Havertz wasted the biggest chance of the lot with the game at 0-0. Thomas Tuchel will not be happy.
DOWNLOAD VIDEO
OR WATCH FOOTBALL VIDEO BELOW
Check out the latest Chelsea highlights and goals here
Check out the latest Arsenal highlights and goals here
Don't forget to comment and share