Football Highlights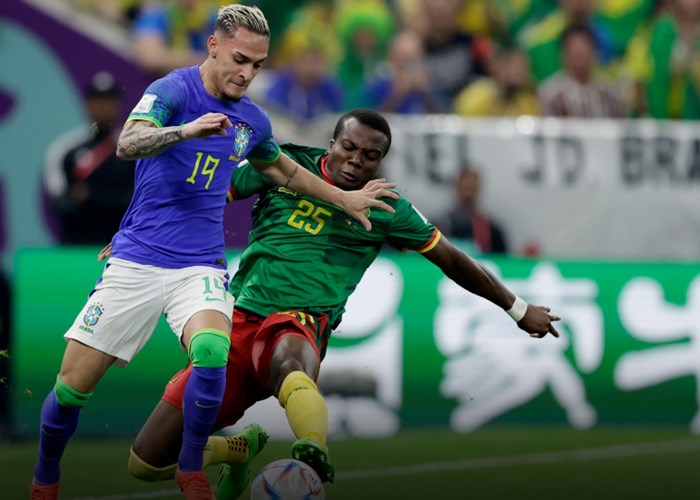 Download Football Video: Cameroon vs Brazil 1-0 Highlights #CAMBRA.
Cameroon vs Brazil 1-0 Highlights Download: FIFA World Cup (Qatar) – December 2nd,  2022. 
#QatarWorldCup2022 #Qatar2022 #FifaWorldCup #WorldCup #Qatar #Cameroon #Brazil #CAMBRA . 
The group G third round of Qatar 2022 World Cup between Cameroon vs Brazil started with full attacking forces.
Ekambi strides at pace down the right and crosses for Aboubakar, who stoops and steers a sensational header into the bottom right! Ederson rooted to the spot. What a cross that was!
Raphinha drops a shoulder to skate past Tolo down the right. He cuts back for Guimaraes, bombing in towards the near post. Guimaraes tries to force home, but his shot is brilliantly blocked by Wooh, the ball deflecting across the face of goal and out for a corner.
Fai crosses from the right. The ball's deflected out for a corner. Militao half clears. Aboubakar returns it, looking for the top-right corner from long range. The ball's deflected out for another corner.
Antony and Guimaraes combine down the right again, but Choupo-Moting isn't to be passed and the ball deflects out for a goal kick.
Ribeiro dribbles with purpose down the inside-right channel.
For a second it looks as though Cameroon are light at the back, but Ebosse comes across to block Ribeiro unceremoniously with a rock-hard and perfectly timed tackle. It had to be, just inside the box.
Martinelli drops a shoulder to make space down the left and fizzes a fine mid-height cross into the mixer. Ebosse, ice in the veins, chests down under intense pressure and hoicks clear. That's some defending in the circumstances!
OR WATCH FOOTBALL VIDEO BELOW
Check out the latest Cameroon highlights and goals here
Check out the latest Brazil highlights and goals here
Don't forget to comment and share