Football Highlights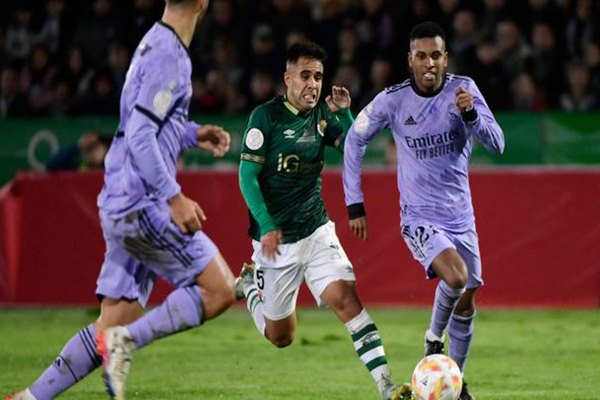 Download Football Video: Cacereno vs Real Madrid 0-1 Highlights #CopaDelRey.
Cacereno vs Real Madrid 0-1 Highlights Download: Spanish Copa Del Rey – January 3rd,  2023. 
#CopaDelrey #RealMadrid #RMA 
Cacereno vs Real Madrid's match started with full attacking forces.
That last passage of play sums up Cacereño. Asensio pulls off a silky nutmeg as he looks to break into the box but two green shirts sprint back to halt his progress.
I almost spoke too soon! A long ball looks to have played Asensio clean through but the ball just holds up enough to allow Cacereño to get numbers back and snuff out the danger.
Excellent handling from Lunin…twice! Carmelo puts a corner and then a cross into the box, which the Ukrainian punches away under severe pressure and the catches respectively.
Télles is suddenly in the thick of the action! He drives forward from midfield and lets one fly…too high.
Asensio's corner, Militão's header.I'm not sure it wouldn've reached the goal line if Moreno hadn't come to claim it.
Was there a handball in the Real Madrid box there?? Carmelo whips a nice cross in towards Grande, who appeals for a penalty as he challenges for the ball. On further inspection, it definitely wasn't.
There's really not been anything between the two teams in the first 25 minutes or so. You'd expect Real Madrid's quality to start telling at some point but if you had no idea who these two were, you'd have no idea there were three tiers between the two.
Cacereño are not messing about here. Thought they might show Real Madrid too much respect? Not a chance. Télles gets stuck in about Camavinga in midfield and Aguado goes through Nacho, which leaves the defender on the floor.
OR WATCH FOOTBALL VIDEO BELOW
Check out the latest Real Madrid highlights and goals here
Don't forget to comment and share