News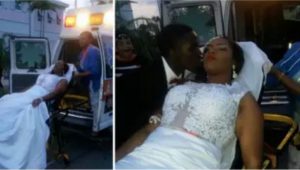 Here is the full details of a newlywed bride who died on her wedding day after the ceremony.
An 18- year- old newlywed bride allegedly died on her wedding night whilst having s*x with her husband.
On Thursday 19th August, 2021, The young Brazilian woman died after suffering a heart attack while having fun with her husband.
According to the police statement, the young bride collapsed while consummating her marriage with her new 29- year- old husband.

" She started to feel unwell and collapsed at the couple' s home in the city of Ibirité in Brazil, " said the police in a statement.
Upon noticing that there was something wrong with his wife, the husband is alleged to have screamed for help and asked his neighbor to call a taxi to take his wife to the hospital.
A driver allegedly answered the call but refused to help them up until an ambulance was called. By the time the doctor arrived, he found the newlywed bride in cardiac arrest.
The doctor reportedly tried to intubate the patient, but sadly she died, The Daily Sun reports.
Following her sudden death, local authorities were called to the scene.