News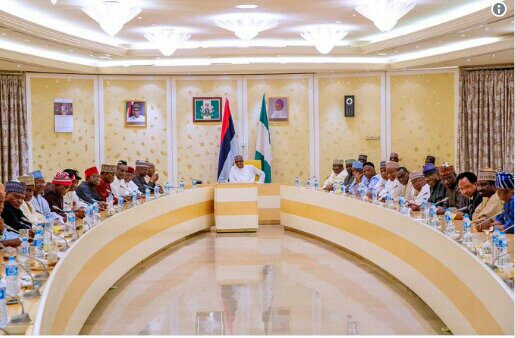 President Muhammadu Buhari on Wednesday night, met with Senators
of the ruling All Progressives Congress inside the Aso Rock, and the details of the meeting have been revealed.
While speaking with State House correspondents after a meeting of
Senators of the governing All Progressives Congress (APC), with
President Muhamamdu Buhari on Wednesday night, Senate Leader
Ahmed Lawan said they went to assure him of their loyalty.
Lawan who spoke after the meeting which had in attendance 39 senators, the national chairman of the party, Adams Oshiomhole, and top government officials, said: "we have come to pay a courtesy call on
President, our leader, and we informed him of what happened yesterday at the Senate and indeed the National Assembly."
According to PREMIUM Times , Lawan also said they told Buhari that
some of their colleagues left the ruling party to join various political parties such as PDP, ADC and APGA.
He said: "We informed Mr President of how we stand in the Senate. As
at today, the Senate APC Caucus is 53 in number followed by the other
minority parties.
"The PDP is the largest minority party with 48 senators and then the ADC with 2 senators, APGA has two senators and we have two vacant
seats which were occupied by APC senators who are late now."
Lawan who spoke on how they assured Buhari that the APC will reclaim the two vacant seats during the bye-election fixed for August 11, also opened up on the 14 senators who left the APC in a mass defection
Tuesday.
Lawan said; "Less than 24 hours into the defection, we had some
discussions with some of our colleagues who defected and they have shown their willingness and interest and readiness to retrace their
steps."
The lawmaker who said the remaining senators are working with the leadership of APC to ensure that those who defected return to the party, added that apart from APC senators, others from the opposition PDP have also indicated their interest to move to the ruling party.
"I want to say that what has happened in the National Assembly yesterday, particularly in the Senate was supposed to be a disagreement in the family, but I think there was a misjudgment.

"When you disagree, you don't kill or break the entire house or burn it
down, you normally sit down and look for solution and way out.
"Going forward, therefore, we believe that this family will get back all its
members and for those that have remained in the Senate APC caucus,
will definitely receive the kind of attention and support from our party
and administration," he said.
Lawan also said they told Buhari of their resolve to work with him to
fulfil the campaign promises made by the APC, added that the party
campaigned on three core issues including fighting insecurity,
revitalising the economy, especially creation of jobs, and fighting corruption.
He said the APC government is doing well on those promises. "This
administration will end as a very successful one. So far we have done
so much with so little in terms of giving development and infrastructure across the country.
"2019 will be the year that this administration will be given a renewal by Nigerians and the National Assembly will witness a higher majority of APC in both Houses by the grace of God and of course, across the
states, we will have more states," he said.
On Buhari's reaction, Lawan simply said "What do you expect when
children come to their father and their leader? He was happy to receive
us, extremely delighted and of course he has shown his willingness to
continue to support the legislature in the implementation of our
programmes as a government, as a party."
He said Buhari also assured them of his commitment to work with the
National Assembly.
"He believes in the separation of powers, like we all do. But we must
have a relationship that will be characterised by interdependence rather than emphasis on independence; by partnership, cooperation,
consultation and coordination. And we will give him everything that he
requires to ensure that he succeeds," he said.
Don't forget to comment and share