News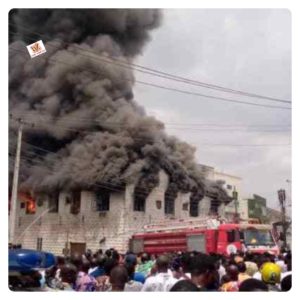 The Ibadan's Dugbe Market on fire as a building housing shops and offices at Lebanon Street, Dugbe Alawo, Ibadan, was gutted by fire.
However, The affected building was located at the back of a new generation bank in Dugbe. the commercial nerve centre of the Oyo State capital.
It was learnt that the fire which started around 1.20 pm razed the building and some shops where mattresses, clothes, electronics and household goods were sold.

Meanwhile, the fire fighters from the Oyo State Fire Service and the Central Bank of Nigeria (CBN) were later showed up to quench the fire incident.
WATCH VIDEO BELOW
https://youtu.be/Yfte4xS1McM
Don't forget to comment and share