Football Highlights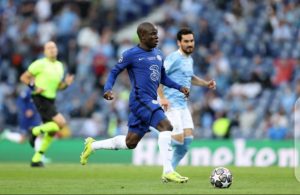 Download UEFA Champions League Final Highlights: Manchester City vs Chelsea 0-1. 
Manchester City vs Chelsea 0-1 Highlights Download: UEFA Champions League Final Result – May 29th, 2021. 
#ChampionsLeagueFinal #UCLFinal #MCICHE #UCL # #MCFC #CFC #EPL. 
Both Manchester City & Chelsea started the Champions League Final with full attacking forces.
Havertz's goal gives Chelsea a 1-0 half-time lead over City in the Champions League final. In the 42nd minute. Havertz got in between the City defenders and knocked the ball past Ederson, who rushed out of his box, before he slotted it into the empty net.
Werner had a couple of good chances as well but couldn't find the target. While Sterling saw a shot saved by Mendy from a tight angle early on.
Kante robs De Bruyne, advances into the City box, feeds Havertz, but Zinchenko times his challenge well and brings the ball clear.
Ilkay Gundogan gets a booking for a challenge on Mount. Then, Thiago Silva goes down for Chelsea. Looks like a muscle injury.
This has been better from City in the last five minutes or so. They've struggled to penetrate Chelsea's low block but that was a sign of what they can do from Walker. And maybe something they will look to exploit again.
Walker flew past Chilwell and he was so quick I don't think Mahrez was expecting the cross to come in. On chances it's pretty even. Chelsea have probably had the better openings, but it does feel like City are starting to get a grip of the game now.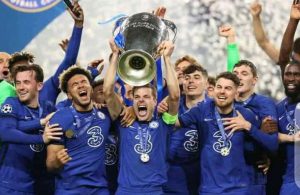 City need to be trusting De Bruyne and Foden more in tight areas. Both have brilliant first touch, and that brought City's best opening so far.
With De Bruyne superbly taking Sterling's awkward pass and instantly feeding Foden, whose shot was well blocked by Rudiger. Chelsea defended well in their two recent wins over City, and working those tight spaces is key to breaking them down.
The Squads
Manchester City: Ederson; Kyle Walker, John Stones, Ruben Dias, Oleksandr Zinchenko. Kevin De Bruyne, Ilkay Gundogan, Bernardo Silva; Riyad Mahrez, Raheem Sterling, Phil Foden. 
SUBS: Fernandinho, Benjamin Mendy, Zack Steffen, Nathan Ake, Rodrigo, Aymeric Laporte. Joao Cancelo, Eric Garcia, Gabriel Jesus, Sergio Aguero, Scott Carson, Ferran Torres. 
ALSO SEE: Europa League Final :Villarreal vs Manchester United 1-1 (PEN 11-10) Highlights (Download Video)
Chelsea: Edouard Mendy; Cesar Azpilicueta, Thiago Silva, Antonio Rudiger; Reece James. N'Golo Kante, Jorginho, Ben Chilwell; Mason Mount, Kai Havertz; Timo Werner. 
DOWNLOAD VIDEO
OR WATCH VIDEO BELOW
Check out the latest Manchester City highlights and goals here
Check out the latest Chelsea highlights and goals here
Don't forget to comment and share