Gospel Songs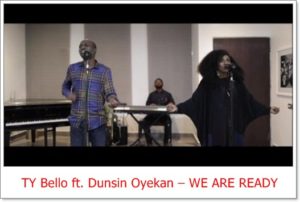 Download Music: TY Bello ft. Dunsin Oyekan – We Are Ready
TY Bello ft. Dunsin Oyekan – We Are Ready
TY Bello is here with her spontaneous session after a short break as she steps out with a new worship song titled "WE ARE READY".
On this session, she employs the vocal performance of Dunsin Oyekan, a contemporary gospel singer who is gradually beaming to the scene.
"WE ARE READY", like other spontaneous songs we've heard from TY Bello shares a connecting soulful expression that anyone worshipper can tap into. It's just about allowing the music itself to take over one.

TY Bello ft. Dunsin Oyekan – We Are Ready || DOWNLOAD MP3
WATCH VIDEO BELOW
Don't forget to comment and share