Celebrity Gist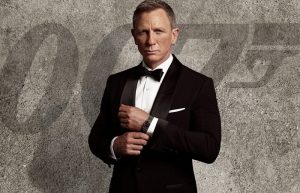 Daniel Craig's time as Bond is now at an end, and with this, it means the position for the role has become vacant. Playing 007 is somewhat iconic, with actors who have taken up the part going down in history. So, because playing Bond is prestigious, everyone has thrown their hat into the ring, but what are their chances? 
Tom Hardy
We're kicking off our list with the man who currently leads the betting where the next James Bond is concerned. Hardy, 44, is a star of movies and TV and very much a household name. Many feel he is perfect for the role, and he will undoubtedly add further eye candy into the mix. With all this female attention, who wouldn't want to be Bond? And let's face it, female attention is something Hardy is used to. 
James McAvoy
James McAvoy is a star of stage and screen. Hailing from Glasgow, although you wouldn't know it if you caught him in the hit TV show Shameless, the 42-year-old hasn't had much of a mention where the role of 007 is concerned. But, because of the clear Scottish links with the franchise, it would make sense for McAvoy to be under consideration. 
Rylan Clark
Believe it or not, the man who first came to public attention via ITV's X Factor is in the betting at least to become the next Bond. Clark, who has built up a stellar reputation on TV and radio, has made cameo appearances in movies and appeared on stage. But now some suggest he's got an even more prominent role in mind, with Bond arguably the biggest of the lot. 

Angelina Jolie
There have been suggestions for a while that the new James Bond could be a woman. And that's led to a lot of females getting linked with the role. While there are others well ahead in the betting, there's a lot to be said for Angelina Jolie's capabilities, primarily because she did, of course, play Lara Croft in Tomb Raider. 
Daniel Radcliffe
It was always going to be tough for Daniel Radcliffe to shake the Harry Potter tag. But, over time, he's become a fantastic actor in his own right on both television and the big screen. The role of 007 requires an actor who can handle the pressure of playing such a massive part, where the lead character is what makes the movie and franchise what it is. And Radcliffe has plenty of experience thanks to his time as the most famous young wizard around. 
Zoe Saldana
We will wrap up our list of potential Daniel Craig replacements with another woman. The American actress, 43, has made a name for herself by starring in the hit movies Avatar and Guardians of the Galaxy. It would be a turn up for the books if she secured the role, primarily because of her American roots, but since 2019 she has been the second highest-grossing film actress of all time. So she has the credentials.