Sport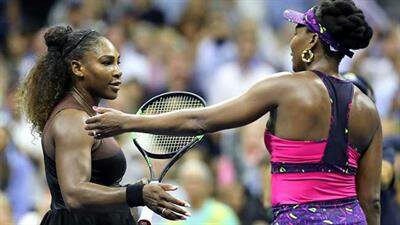 Serena Williams crushed older sister Venus 6-1 6-2 in a shockingly subdued third round clash at the U.S. Open on Friday to stay on track for a record equaling 24th Grand Slam title.
The meeting between the famed tennis siblings had been hyped as the biggest night of the U.S. Open but turned into a "flat, uninspired spectacle" as Serena simply outclassed her sister.
The only moment of suspense in a contest all but devoid of drama came in the second game when Serena rolled over on her ankle, drawing gasps from the sellout crowd.
Serena was able to continue but at the first changeover, called a medical timeout and had her ankle heavily strapped.
In the end, though, the only pain being felt was by Venus, who suffered the equal worst defeat in 30 matches against her sister.
"This was my best match since my return. I've worked really hard for it … and hopefully, everything will keep paying off. "I roll my ankles a lot; so, I just wanted to get it taped as tight as I could for the rest of the match and see how I feel tomorrow," Serena said in an on-court interview.
Seven times a Grand Slam winner, Venus held her opening serve, but it was all downhill from there as a ruthless Serena swept through the next seven games to take the opening set in a breezy 31 minutes and a 2-0 lead in the second.
Venus would stop the skid holding her serve at 2-1 before Serena resumed the mugging by building a 5-1 lead before finishing off her sister with a thumping forehand winner.
The win was met with polite applause, a hug at the net otherwise there was no evident joy in the outcome.

"She didn't win that match tonight because I just rolled over. She played "untouchable" tennis.
"I think it's the best match she's ever played against me. I don't think I did a lot wrong. But she just did everything right.
"I never got to really even touch any balls. When your opponent plays like that, it's not really anything to be upset about," said Venus.
Don't forget to comment and share