Celebrity Gist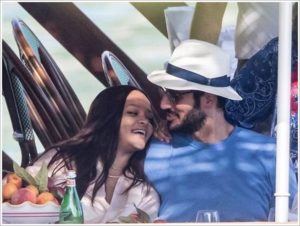 After Three years of been together, Rihanna and her boyfriend, Toyota heir Hassan Jameel have reportedly split. 
It has been reported that American female singer, Rihanna aka Queen Riri has parted way with her long time, billionaire boyfriend, Jameel Hassan.
The duo have been photographed together a number of times throughout the course of their relationship. While traveling together in foreign countries, attending Lakers games, and of course, unapologetically showcasing major PDA by the pool.
Their infamous poolside pics even inspired the viral hashtag #RihannaHasAMan when the news of their pairing first broke. They never made an official red carpet appearance together.

However, Their break up news has once surfaced online in 2018 but the rumor went down after the lovers seen continued their relationship.
According to United States weekly, the Barbadian singer and the Saudi businessman, both 31 have separated after nearly three years of dating.
The pair kept their relationship mostly private, but Rihanna opened up about their romance in the November 2019 issue of Vogue.
Rihanna and Jameel's pairing reportedly worked so well for so long was due to their opposite but complimentary personalities.
Don't forget to comment and share