Football Highlights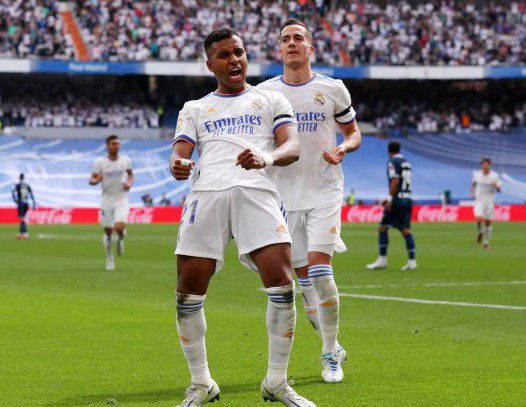 Download Football Video: Real Madrid vs Espanyol 4-0 Highlights #RMAESP . 
Real Madrid vs Espanyol 4-0 Highlights Download: Spanish La Liga – April 30th, 2022. 
#RMAESP #ESPRMA #LALIGA #RealMadridFC #RMD #RealMadrid #Rodrygo . 
Real Madrid vs Espanyol's match started with full attacking forces. Rodrygo signed as he scored brace and Asensio scored one to give the home team a straight three points.
Espanyol have been bright today but lack a final thrust with Courtois never really threatened in this, almost hour of action at the Bernabeu. Vidal seems to be in trouble for Espanyol.
That was the closest that Espanyol have come to scoring today with Courtois totally beaten and the ball going milimetres over the bar.
Kroos and Benzema warming up as Espanyol almost score as Mariano almost sends the ball into his own goal.
While looking forward to the festivities in front of their home crowd at the Santiago Bernabeu, Madrid are also looking ahead to Wednesday's Champions League semifinal second leg against Manchester City.
For that reason, several reserves will be counted upon to help bring the La Liga title home on Saturday with the likes of Karim Benzema and Vinicius Jr. rested.
As for Espanyol, they are nine points above the relegation zone with five matches to go and that cushion should be enough to ensure safety and a place in La Liga in 2022-23.
A potential fourth loss in five games at Madrid would make for a nervy finish to the season for Espanyol, but head-to-head matches against Deportivo Alaves and Granada leaves destiny in their own hands.
Espanyol come close as Kroos, out of all people, is dispossessed in the area and Darder breaks down the right.
The midfielder delivers a low ball past Courtois where De Tomas is but Vazquez clears it right in the nick of time
OR WATCH FOOTBALL VIDEO BELOW
Check out the latest Real Madrid highlights and goals here
Check out the latest Espanyol highlights and goals here
Don't forget to comment and share