News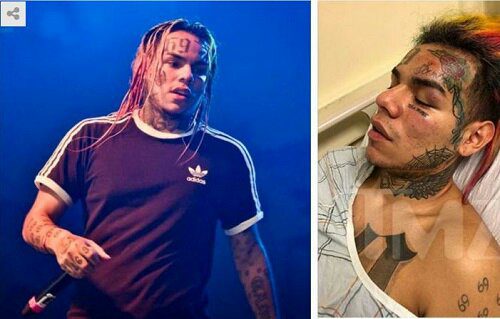 Tekashi 6ix9ine was reportedly kidnapped and robbed early Sunday
morning, and is currently recovering in a hospital.
Tekashi 6ix9ine
American rapper, Tekashi69 (AKA Tekashi 6ix9ine) has been
hospitalized after he was pistol whipped robbed and kidnapped.
Not long after claiming he was 'going to prison', the US artist has
reportedly been admitted to hospital after he was 'pistol whipped,
robbed and kidnapped'.
Rapper Tekashi69 hospitalized after being robbed and kidnapped
lailasnews According to TMZ, sources claimed three hooded gunmen got out of
their car, grabbed Tekashi and knocked him unconscious.
'We're told the next thing Tekashi knew, he was in the back seat of the
car as the gunmen were driving around, telling him if they didn't get
what they wanted from him they would kill him,' the publication
reported, before the men allegedly raided his house.
Around $750k (£571k) in jewellery and between $15k (£11k) and
$20k (£15k) in cash was reportedly taken from the premises, while
Tekashi's partner and their daughter were reportedly inside the property
but unhurt.
TMZ claimed the rapper was then able to escape the vehicle, with the
gunmen still inside, flagging down a passerby who called 911 at an
intersection.
He was reportedly transported to a hospital by ambulance where it has
been claimed he's received various tests, including a CT scan.
It comes after the Brooklyn native posted to Instagram that he could be
going to jail 'forever', and after he was pictured outside of court this week, fans are suspecting he may genuinely be about to be incarcerated. Hernandez was arrested this month on an outstanding warrant after an incident where he allegedly strangled a 16-year-old in a Houston mall in January.
In April, members of 6ix9ine's crew were reportedly arrested after shots
were fired in New York's Bedford-Stuyvestant, and a few days later it
was confirmed that 6ix9ine was under investigation for his potential
involvement in an incident where Chief Keef was shot.
Don't forget to comment and share