Celebrity Gist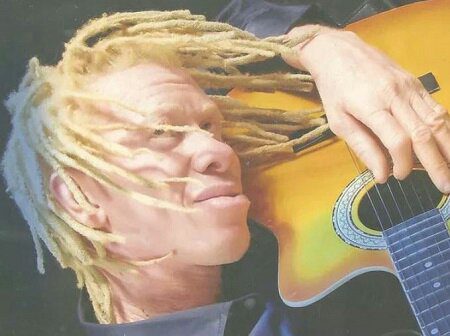 The ailing musician may be moved out of the hospital today as a result of the ongoing strike embarked upon by the health worker.
"The hospital workers embarked on industrial strike on Wednesday, and they allowed him to be in the hospital till yesterday. He's still in the hospital because we have no place to keep him. We have to secure a place that is comfortable and hygienic for him. But we don't have the fund to pay the hospital bill and if we don't offsetthe bills, the hospital management may not allow him to leave the premises
A Nigerian reggae star, Uti Kennedy Nduka, popularly known as Yellow Banton, is currently stranded at Gbagada General hospital, Lagos, after undergoing skin cancer surgery.
He underwent a blood transfusion last weekend, but there are indications the ailing reggae star may not be discharged if his medical bills are not paid.
Banton, who is down with Basal Cell Carinoma, BCC, an aggressive skin cancer, underwent his first surgery recently and lost a lot of blood.
Although the surgery was successful, the reggae star is still at the hospital.
Actress and broadcaster Mabel Oboh, through her non-governmental organization, Centre for Save Our Stars, an NGO caring for Nigerian entertainers, is responsible for his treatment.
Narrating his ordeal, Oboh said the ailing musician needs the support of everyone, including his colleagues in the music industry to survive this trauma.
According to her, "Yellow Banton has been discharged from the hospital, but he cannot go home now because he's homeless. That's the dilemma we are in, and nobody is coming to his rescue."
Oboh, however, lamented the discouraging attitude of Banton's colleagues from Ajegunle, accusing them of abandoning him to his fate.
"Aside from Baba Fyro, no other AJ musician have visited Yellow Banton in the hospital or contributed a dime to save his life. I am expecting solidarity funds from Nigerian musicians to save one of their own. I am feeling very disappointed with the artistes," Oboh lamented.
She said Yellow Banton lost a lot of blood after the transfusion, but his condition has been stabilised at the moment.
She, however, hinted that the ailing musician may be moved out of the hospital today as a result of the ongoing strike embarked upon by the health worker.
"The hospital workers embarked on industrial strike on Wednesday, and they allowed him to be in the hospital till yesterday. He's still in the hospital because we have no place to keep him. We have to secure a place that is comfortable and hygienic for him. But we don't have the fund to pay the hospital bill and if we don't offsetthe bills, the hospital management may not allow him to leave the premises," said Oboh.
She thanked two diaspora team members, Esy Oluwafemi and Priscilla Okpuzor who donated some money to enable them commence his treatment.
The ghetto singer, Yellow Banton, was famous in the late 90's and early millennium.
He is renowned for infusing pidgin language into reggae music successfully in a unique way.
His popular tracks include "Na Who Dey Make Them Dey and Happy Onyibo".
Don't forget to like, comment and share