News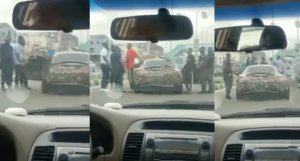 Lagos State Police officers have been caught on tape arresting two young boys who were driving an expensive sports car.
In a video circulating on social media, the officers numbering about six, who had double-crossed the sports car in traffic, accosted them.
The two young men were told to step out of the car and they were bundled to the Toyota which the officers used to block the road.
A policeman then got into the sports car and drove off following the police vehicle behind.

WATCH VIDEO BELOW