News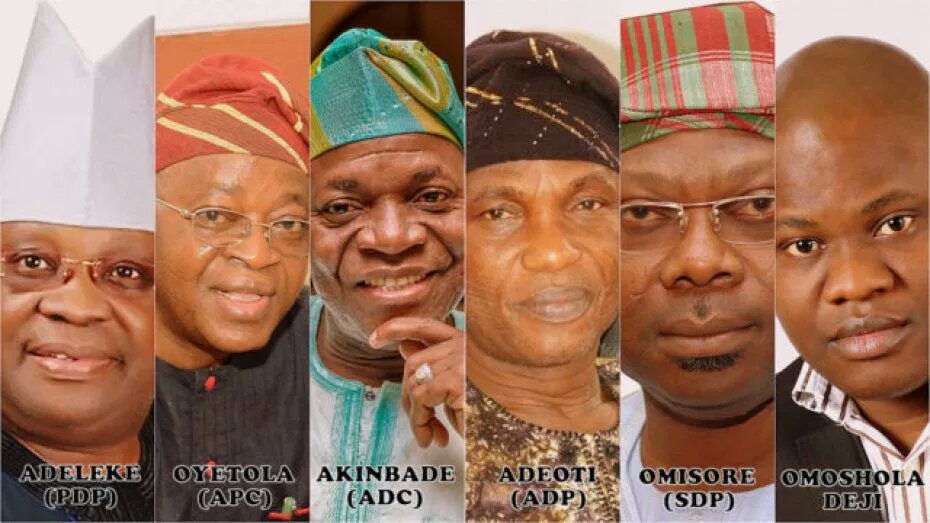 The eight-year tenure of Governor Rauf Aregbesola is gradually winding up as the residents of the state troop to the polls today, Saturday, September 22, to decide who will be the next governor of the state of Osun.
Although there are 48 parties and thus 48 governorship candidates
cleared to contest for September 22 governorship election in Osun state, about five of them are expected to be the major contenders jostling for the 1,246,915 votes in the state.
These are a former secretary to the state government, Fatai Akinbade of the ADC; immediate past secretary to the state government, Moshood Adeoti of the ADP; the candidate of the governing APC, Adegboyega Oyetola; a senator, Ademola Adeleke of the PDP; and a former senator, Iyiola Omisore of the SDP.
Who will Osun people give the mandate to become the next state
governor among these candidates? Is it going to be Oyetola?
Adeleke? Omisore? Or a new fresh face?
Wiseloaded is on ground, live and direct from Osun state, to bring you insightful live updates as Osun people troop out to cast their votes for their preferred candidates today, Saturday, September 22, 2018.
Don't forget to refresh your browser always for fresh updates.
UNOFFICIAL RESULTS:

4.08: Here are some of the unofficial results
Iwo Local Government ward 2 unit 9
ANRP-:1
APE-: 1
APA-:1
SPN-:1
ADC-: 6
APC-: 54
SDP-:32
PDP-: 54
ADP-: 53
Ife South LGA
Ward: 02
Unit: 10
APC: 50
PDP: 30
SDP: 17
EDE SOUTH LGA, Alajue 11 (Aisu junction)
Ward 05 Unit 001.
APC -34
ADP-2
ADC-2
PDP -212
SDP -10
Void – 2
Ward 5 unit 8 ilobu
PDP 59
ADP 32
APC 60
SDP 21
Void 9
Ife North
Ipetumodu 1 Ward 6 Court Hall 2
APC= 48,
SDP= 68,
PDP= 64,
ADP= 3,
ADC= 1
Osogbo ward 13 unit 7
APC 100
SDP 32
PDP 90
Boripe Ward 01
PDP 55
APC 192
SDP 10
ADP 8
Ejigbo Ward 09 unit 05
SDP: 51
APC: 63
PDP: 21
Ward 2, unit 12
APC 296
PDP 103
SDP 100
Ife North ward05 unit 4
APC 62
PDP 50 ,
SDP 57
BORIPE WORD 8
UNIT 7A 7B 7C 7D
APC. 109 96. 81. 81
SDP. 44 58 61. 64
PDP. 34 41 27. 38
WARD 9 UNIT 8 IREPODUN LOCAL GOVT.
APC 130
PDP 43
SDP 29
Ejigbo LGA, ward 9 unit 4
APC 80
PDP 62
SDP 12
ADC 2
ADP 2
Ward 04 (Faji/Opete), Odo Otin LGA, unit 4
APC 94
PDP 59
Iremo unit 5, Ward 2
SDP 202
PDP 31
APC 41
Adc 2
Ayedaade south Ojetunde village ward 10 orile owu
APC 42
PDP 26
SDP 8
ADP 3
Ward 07 ,unit 17 Osogbo LGA
APC – 87
ADP – 1
PDP – 42
ADC – 0
SDP – 14
UNIT 3, ATAOJA OYINLOYE WARD, OSOGBO LG
APC 77
PDP 19
SDP 46
Olorunda LG. faology 2.
APC 67
PDP 48
SDP 30
ADP 3
ADC 1
OSCOED Ilesa, unit 02
APC 112
PDP 66
SDP 34
ADP 14
PPH 1
Void 4
Ward 13 unit 1 Osogbo l.g
SDP 15
PDC 1
ADP 1
ADC 1
PPA 1
PDP 71
APC 93
RESULTS
Unit2 Ward 10 Orile-Owu
APC 118
PDP 115
Ward 13 Unit 1, Osogbo LG
APC93
SDP 15
PDP 71
Void 4
RESULTS
Ilarogun ward 9 unit 7
PDP=59
APC=48
SPD=19
Oranmiyan tower ward10 lagere Ile-Ife unit 3b
APC 20
SDP 48
PDP 5
Unit 2 ward 3
SDP 75
PDP 26
APC 37
Ward 03, unit 05Ila LG
APC 114
PDP 99
ADP 02
Unit 4, ward 2, Ilesa West LG
Apc 107
Pdp 90
LIADDI TELLA UNIT IWO
SDP 105
APC 78
PDP 18
Ward 13, Unit 1, Osogbo LG.
APC :93
SDP :15
PDP : 71
Void : 4
Odo Otin LGA, ward 4 unit 5
APC 125
PDP 33
SDP 07
Ila Ward 8, unit 12, Oko Awo
APC 34
PDP 20
SDP 16
Unit 11 Ward 11, Olorunda LG
PDP – 18
APC – 24
ADC –
ADP –
SDP – 3
INVALID – 5
4.07pm: The Election has officially ended with unofficial results
trooping in
3.10pm: There is palpable tension in Ife Central local government area where the SDP is currently leading.
Some of the voters, especiallly the SDP supporter,-are accusing an INEC ad-hoc staff of collecting bribe from other parties after rendering many of their ballot papers invalid.
Soldiers have been deployed to the polling unit to restore sanity.
2.37pm: Sorting of votes begins in Oyetola's polling unit.
2.31pm: At the Akarabata polling Unit 1A and B, SDP defeated other parties. Results have started trickling in from different centres.
2.29pm: Counting of votes has started in some parts of Ife Central local government area
2.31pm: At the Akarabata polling Unit 1A and B, SDP defeated other parties. Results have started trickling in from different centres.
2.29pm: Counting of votes has started in some parts of Ife Central local government area
2.22pm: Thugs invade polling unit in Egbedore, steal ballot boxes.
Some suspected thugs invaded Okini in Egbedore local government and snatched away ballot box during the voting process. It took the intervention of the security agents who promptly swung into action to arrest the invaders.
The security agents later brought calmness and order to the polling as sorting began after the thugs were taken away.
2.11pm: The police have reportedly arrested 10 impersonators at Olorunda Ward 11 Units 1,2,4,5 who attempted to vote with PVCs that are not theirs.
1.40pm: At Ilesha west local government, Moroko Ward 9 PU 6,
The Cable reports that vote counting has started.
1pm: Police arrested two suspects for allegedly inducing voters Iwo LGA.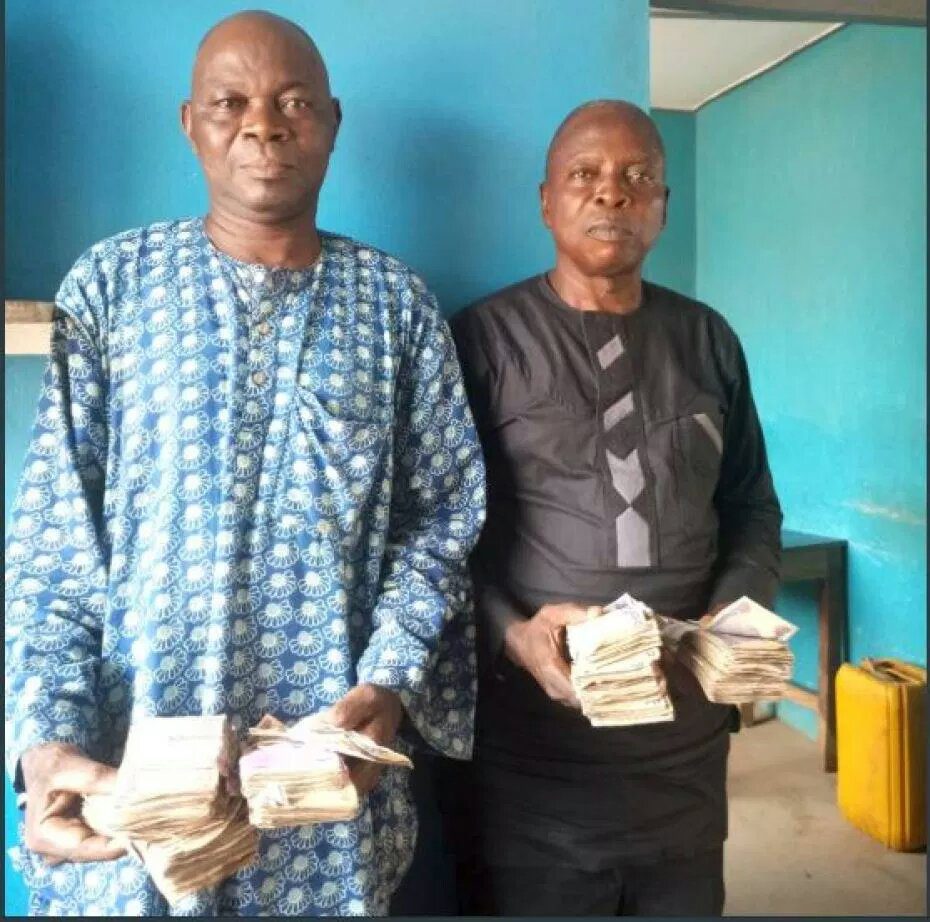 The sum of N604,000 was reportedly found on them.
12.50pm: Olagunsoye Oyinlola, a former governor of the state, voted at unit 3, ward 1, Okuku, Odo Otin local government area.
12.40pm: The Cable reports that Mansur, a voter at Obada ward 1, unit 1, in Ede South, said party agents take voters to a corner to swear with a Quran if indeed they voted for their candidate.
Thereafter, they are handed N1,000 naira
12.30pm: The governorship candidate of the Social Democratic Party (SDP), Senator Iyiola Omisore, on queue to cast his ballot in Ile-Ife at his More Ward.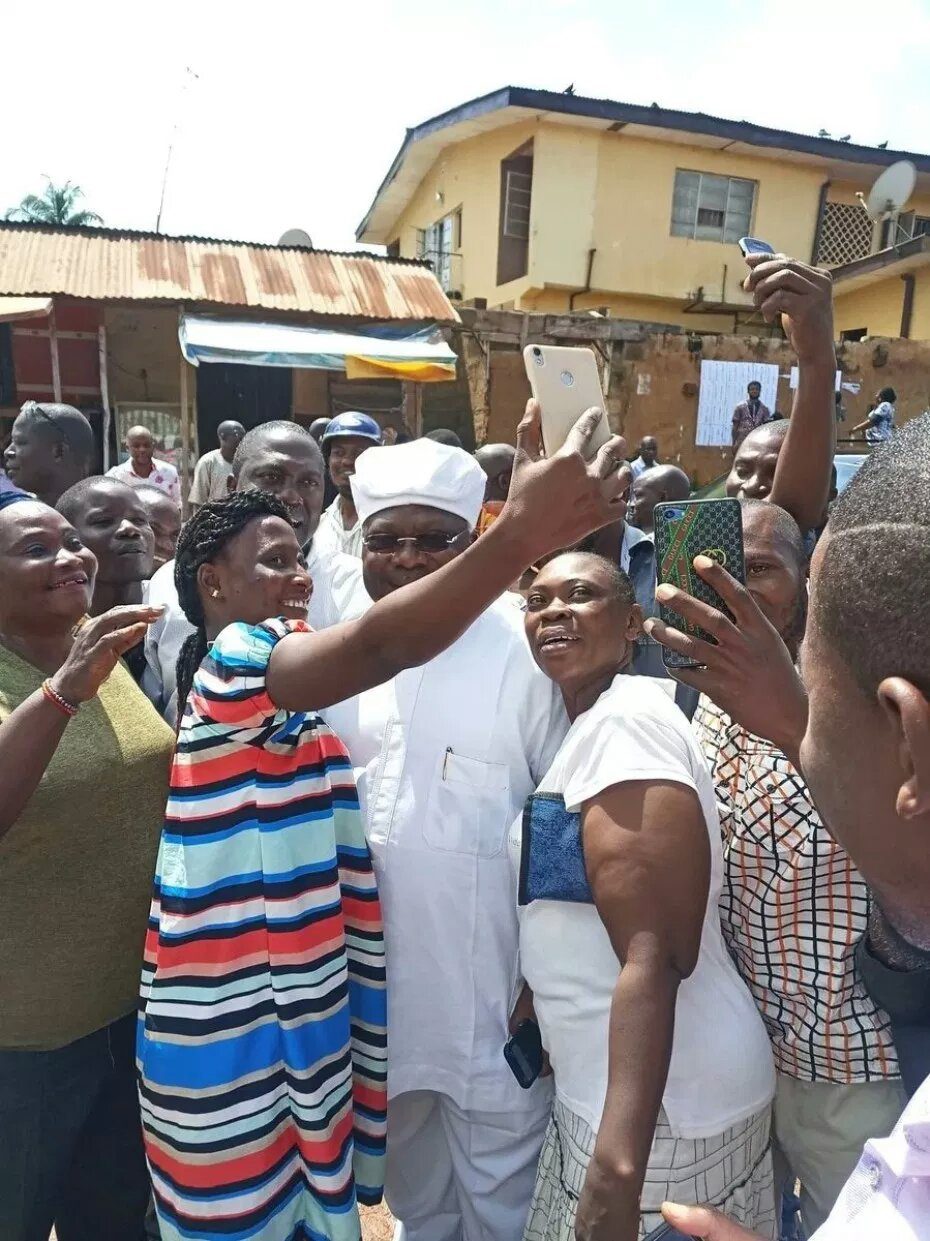 12: 26am: Despite the warning against vote-buying and selling, reports from various parts of the city indicate politicians and the electorate are still engaging in the electoral malpractice.
Wiseloaded correspondent can confirm that some residents of Ede have expressed their displeasure with the SDP and ADP for not 'sharing' money to them.
12.20am: There have been few cases of card reader glitches. At St Georges School, Ofatedo, Egbedore ward 10, card readers reportedly not showing faces of voters who transferred their PVCs from other units 12.14am: A PDP agent has been arrested for alleged vote-buying at ward 1, unit 1, Obada Ede local government area, The Cable reports.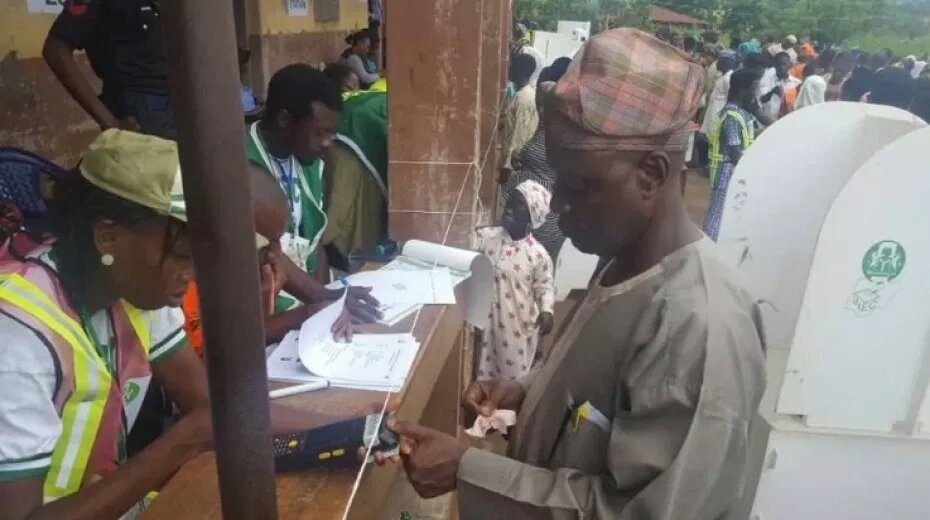 11.50 am: Aregbesola votes, describes election as festival of democracy. He says the exercise has been peaceful so far.
OBSERVATION: 11.28am: There is a massive turn out of voters as observers commend INEC and security agencies. The head of foreign election observer for Osun 2018 election, Ketil Karlson, said the conduct of the election not only impressive but commendable.
He said he was amazed about the large turnout of people to perform their civil rights.
11.12am: Fatai Akinbade, ADC governorship candidate, casting his vote at ward 3, unit 1, Ogbagba.
10.40am: Oyetola addressing the media. The APC candidate said so far, the exercise has been going on smoothly. He said is sure he will emerge the winner of the election.
10.12am: The APC governorship candidate has just voted.
9. 51am: People conduct themselves in orderly manner as voting commences in LA primary school, ward 1 unit 2. The APC governorship candidate, Gboyega Oyetola, is yet to arrive.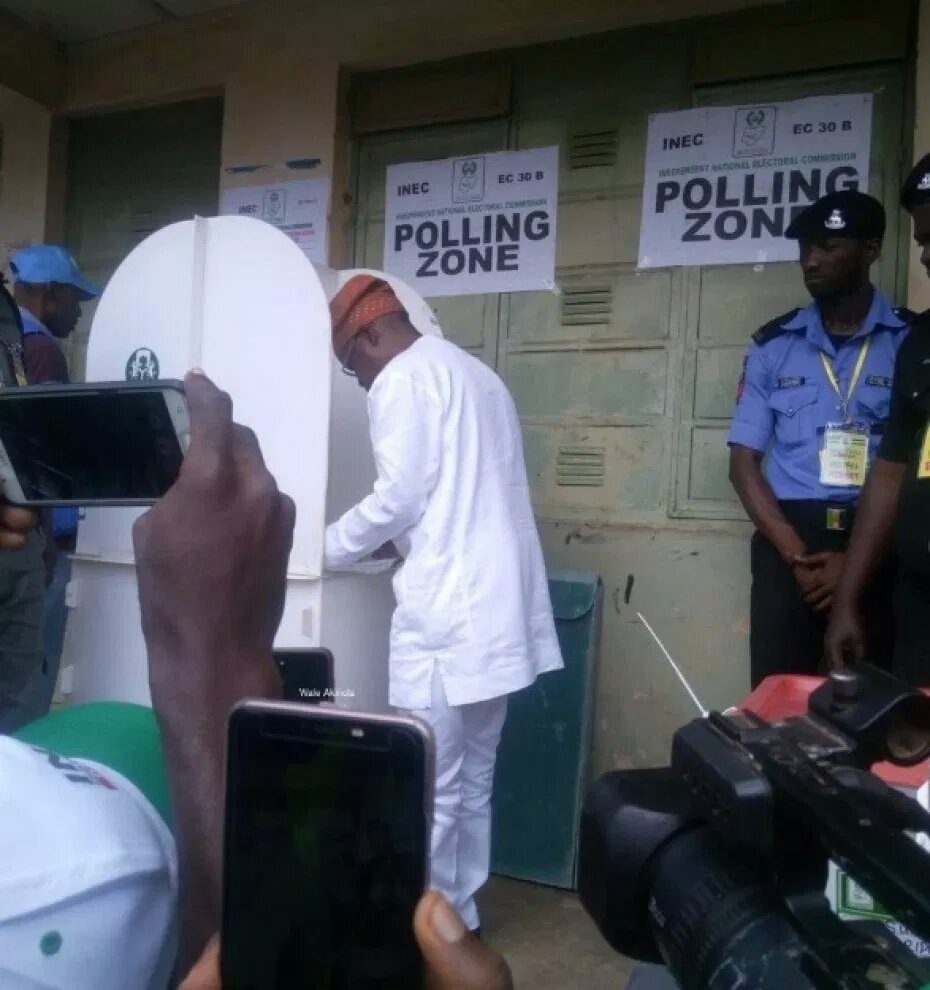 9.40am: Senator Adeleke addresses the newsmen. The PDP candidate said he would emerge the winner of the election, provided it is free and fair.
8.45am: Accreditation of voters started in Oyetola home town, Iragbiji.
8.44am: Reports reaching us from our correspondent state that the gubernatorial candidate of the PDP, Senator Adeleke has cast his vote. He reportedly voted at about 8:08am. Senator Adeleke voted at Ward 07 in Sagba Abogunde area of Ede North.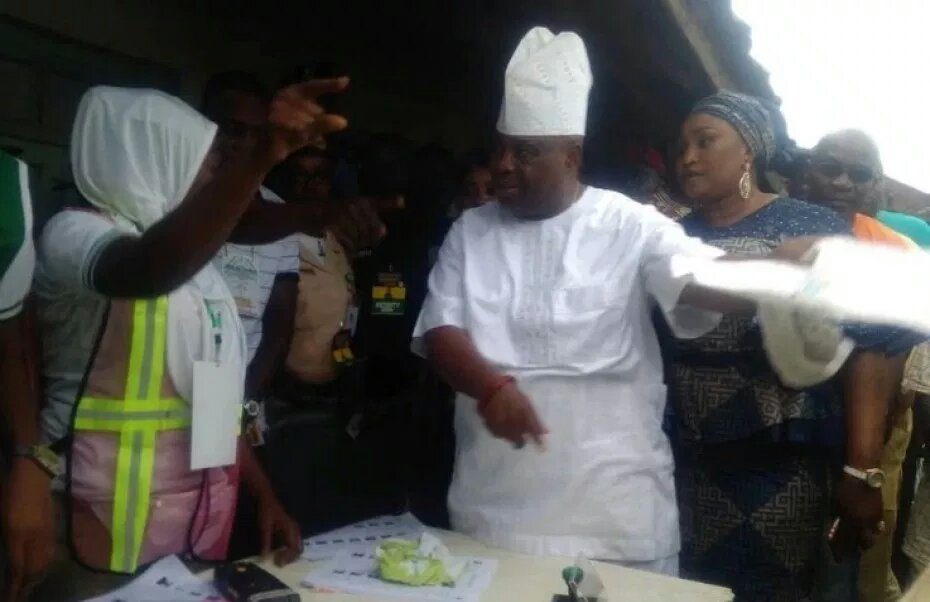 8. 30am: There is morning shower in Ede area of the state.
Hopefully the people of Ede will defy the early morning rain to come and vote for their preferred candidates.
8am: Polling units are being set up by INEC staff across the state as residents troop out to check their names on the voters accreditation list.
8am: Quick facts you should know as the election starts in a moment:
-1,687,492 registered voters
-48 governorship candidates
-1,246,915 PVC distributed
Don't forget to comment and share