Sport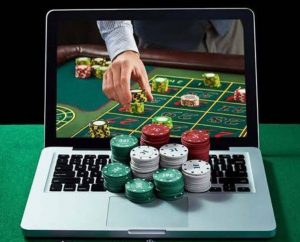 The gaming sector in Nigeria is still in its infancy but it is already showing great potential. The gaming market in the country was already valued at 67 million US dollars in 2018, and by 2023, it should be able to reach over 176 million US dollars.
As technology and internet infrastructures improve in Nigeria, more people are starting to gain interest in online gaming including real money casino games. Gambling is regulated in Nigeria and when it comes to online casinos, no law restricts the locals from betting on offshore casinos. This means that the locals are free to visit USA Online Casinos.
Nigeria has the second-largest online gambling market in Africa and according to experts who attended the SBC Digital Summit Africa, Nigeria has the biggest potential for online betting and gaming operators. With this, we can only expect that online gambling will get better in the country.

Why the Gambling Market is Growing in Nigeria
There are a few factors that contribute to the steady growth of the gambling industry in the country. Here are some of them.
• Mobile Devices
The number of mobile users in the country is quickly growing each day. Today, it is estimated that there are already around 170 million mobile users in the country and 20 to 40 million of these people have a smartphone device. As reported by the Nigeria Communications Commission last year, the total number of GSM subscriptions in the country already reached over 185 million.
ALSO SEE: See Huge Amount Betway Spent To Sponsor Big Brother Naija 2020
These numbers are only expected to go up in the next few years. This is especially today that smartphones are becoming more affordable yet powerful. As more people could afford to have a smartphone, the more people that online gambling companies could cater to.
• Internet
It is estimated that over 46 percent of Nigeria's population are internet users and by 2025, this percentage could rise to 65.2 percent. Today, there are already 99 million internet users in the country and this number is projected to rise to 131.7 million by 2023.
This just shows how the internet infrastructure is becoming more stable in the country. If back then, the internet was seen as a luxury in Nigeria, today, it is easily available to everyone. It's now easy to access and has become more affordable.
• Marketing Strategies
Gambling advertising is regulated in the country, but it isn't as strict as how other countries are like the United Kingdom. Today, you probably have seen gambling ads on social media platforms. In Nigeria, Bet9ja is becoming really popular and its ads can be easily seen online.
• Game Variety
Online gambling allows players to easily shop for online casinos depending on their preferences. One of the first factors to consider is whether a site has the games that you'd like to play. This is not a problem anymore because typically, a casino site has hundreds of games to offer.
Whether you're after playing card games or slot machine games, you can easily find them in different varieties that it is impossible to easily get bored by them.
Many of the internet users in Nigeria are using mobile devices or smartphones and you'll be happy to know that the majority of online casinos are compatible with mobile web browsers. If you want a faster experience, you can also look for casino apps that feature your favorite casino games.
• Convenient Gambling
Online gambling has been mainly convenient for players worldwide. You only really need a device and the internet to be able to access an online casino site.
Since this is not illegal in the country, anyone here can easily play real money casino games online.
If you're considering playing casino games online and you're after profiting, go for instant withdrawal casinos.
Know that online casinos have different withdrawal processes and if you think you'll need the money you deposited right away, make sure that you look into this. Always keep in mind that online casino gaming should bring you convenience.
While there is no perfect casino operator out there, you should get to know their terms and conditions before signing up with them. You can also visit casino review sites for this.
Conclusion
The gambling industry in Nigeria is poised to get bigger and as more locals gamble online, we can expect that online gambling services will get better.
Since online gambling is still in its infancy here, might as well take advantage of casinos that are trying to build a strong market in the country. These casinos surely have great promos and bonuses.
Don't forget to comment and share