EDITORIALS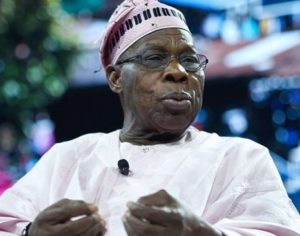 Rights and Freedom Advocates (RIFA) received former President Olusegun Obasanjo usual repulsive and perfidious incitement against the Independent National Electoral Commission (INEC) with his usual treacherous move against any authority meant well for Nigeria. No normal person would not condemn the chief election-rigger Obasanjo for interfering in a fairly-conducted election in Nigeria.
In 2006, Obasanjo flew to Edo State where he ordered INEC to announce defeated People's Democratic Party (PDP) governorship candidate; Prof Osehemen Osunbor as the winner against the wish of the people. The same Obasanjo removed Senator Rashid Adewolu Ladoja illegally ditto to Joshua Dariye and Ayo Fayose for not supporting his devilish and perfidious agenda against the Nation.
While Mimiko contested under Labour Party for Governorship seat in Ondo State, election was in progress when Obasanjo directed INEC to announce results that declared PDP candidate the winner.
The atrocities of Obasanjo in election rigging made Umar Musa Yar'adua and Goodluck Jonathan to admit openly that Obasanjo was a serial election rigger that ushered them in 2007. His active participation in the annulment of June 12 1993 election with his cohorts including David Mark, T.Y Danjuma, Arthur Nzeribe etc is still fresh in our memory.

If Obasanjo thought he has monopoly of instigating violence or insurrection including annulment of election which does not favour his favoured loser-candidate, he should be reminded that 2023 awareness is not the same as 1993 situation when most people were oblivious of their demonic agenda which he pursued vigorously for 8 years as civilian President.
On his latest incitement and ridicule of INEC, RIFA call on the President and the Federal Government of Nigeria to place .on special watch list, Obasanjo cohorts in his criminal act such as Pastor Enenche of Dunamis Church who was instigating violence, on Sunday February 26, 2023, Nigerian Bar Association Chairman mentioned by Obasanjo as his co-traveller in his February 27 2023 tantrum, Mr Afe Babalola who has been echoing Obasanjo evil plot since 2022 and other criminal elements who believe they can foist their dullard candidate(s) on the sensible and patriotic Nigerians.
Even though there were isolated cases of electoral malpractices which were mainly perpetuated by Obasanjo candidate to the extent that they were forcing people to vote his candidate in the South East and South South including some parts of North Central and some electoral officers were caught in Lagos and some states altering election results in favour of Obasabjo candidate, yet patriotic elements did not call for cancellation of election results or postponement of election.
The gimmick of chief election rigger; Obasanjo, who has no rival in Nigerian history of election rigging cannot subvert the will of the people and plant his stooges to rig election in favour of his anointed fallen candidate.
Should Obasanjo misbehave, the State should put him where he belongs at least he has stolen enough federal resources including Presidential library he dubiously converted to personal property after duping the world of building a Federal project.
Obasanjo's call on President Buhari to direct halting of the election result announcement is nothing but a coup and such a person should have been charged for treason . That is similar to the approach he and his criminal colleagues took when they perceived MKO Abiola was leading the 1993 election.
But this time, RIFA call on President Muhammadu Buhari who has won many international laurels for transparency and nationalism which Obasanjo couldn't win to ignore the tantrum of the only good at election rigging former President Obasanjo.
Obasanjo toga of egotism must not be allowed to thrive again. So, Nigerians must resist attempt by Obasanjo to instigate them against a good process which he could not achieve during his reign of terror.
If anyone would have queried a free and fair election, it should not be the worst election rigger Obasanjo who is known for conducting the worst election in Nigerian history and bribing the National Assembly to foist his failed third agenda on the Nation after siphoning billions of dollars on phantom projects.
Luqman Soliu,
President,
Rights and Freedom Advocates (RIFA)