News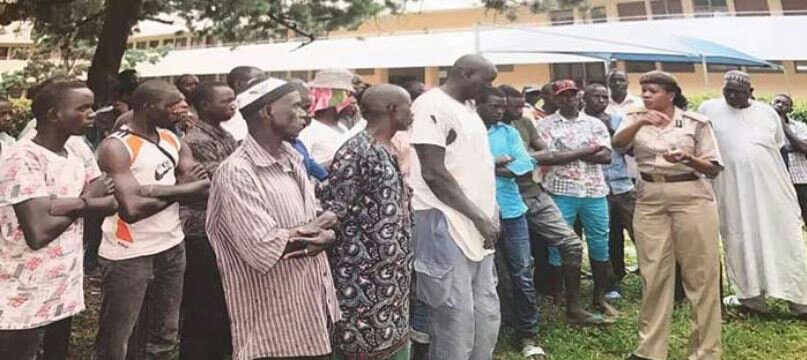 Illegal immigrants residing in Nigeria have been gathered and expelled
by the Nigeria Immigration Service command in Enugu State.
The Enugu State Command of the Nigeria Immigration Service has
repatriated 75 illegal immigrants arrested in parts of the state.
It was learnt that the immigrants were mostly from the Niger Republic
and Cameroun.
Comptroller of Immigration in Enugu State, Dora Amahian, informed
journalists on Monday that the illegal aliens were arrested in parts of
the state during a raid carried out by operatives of the Command during the weekend.
The immigrants were sent back to their respective countries on
Saturday and Sunday.
Amahian explained that the Command embarked on the raid following complaints by members of the public over the immigrants' alleged nefarious activities.
According to her, the majority of the repatriated foreigners relocated to
Enugu from Anambra State, where they were reportedly dislodged
during a recent raid by the Immigration Service in the state.
"Most of them came into Enugu State because they saw it as a safe haven for them," she explained, adding that some of them engaged in violent crime before they were arrested.
She further disclosed that the Command was on the trail of other illegal immigrants who are still residing in the state.
Amahian urged members of the public to avail the Immigration Service with useful information that could lead to the arrest and repatriation of the illegal foreigners that are still at large.
"We want to call on members of the public to always avail us with
necessary information that could help us get rid of these illegal
immigrants," she said.
A screening and profiling exercise embarked on by the Command led to
the discovery of the immigrants, according to the Enugu Immigration
boss.
A Punch correspondent learnt that some of the immigrants had claimed
that they have lived in Nigeria for up to 20 years.
However, Amahian noted that although Nigeria would not chase away foreigners from fellow ECOWAS nations, such immigrants must obtain
the necessary documentation to be able to reside in the country.

Don't forget to comment and share