Football Highlights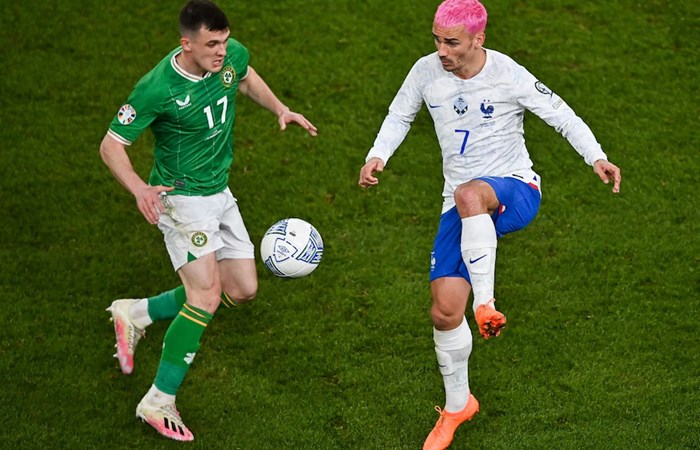 Download Football Video: Ireland vs France 0-1 Highlights .
Ireland vs France 0-1 Highlights Download: EURO 2024 Qualification – March 27th, 2023.  
Ireland vs France's match started with full attacking forces.
Koundé's header was almost an own goal due to defensive intervention.

And an even better save there from Maignan. A corner, a fantastic bullet of a header for Nathan Collins… oh that is a simply magnificent stop. Claws it away. He had no right to.
If you get a chance, do seek out the highlights from this. Those two saves were world class.
Corner Ireland. A bullet header from a French defender Jules Kounde very nearly gives us one of the all time great own goals. What was he thinking? French goalie saves the day.
A seriously good bit of keeping from Maignan.
In Diaby and out Giroud, change of France. Idah comes in and Ferguson goes out, Ireland substitution.
Again Ireland! The French are rooted to the spot in defence as ball is half cleared…. it drops to Browne…. he hits a bobbling scuffed effort on the diagonal through the area.
It is begging for someone to turn it in… but it remains untouched and the French can breathe a sigh of relief. Those five subs have certainly given the Irish some fresh legs.
This is the time Ireland. They've got the French on the ropes here. McClean gets through and is denied from a narrow angle. Corner.
It all opens up for Rabiot – far too much space here… he drives forward and hits a hard shot. Bazunu gets down well.
Pavard steals the ball and rifles the shot into the corner to make it 1-0.
Ireland have their tails up but France starting to make their class show. Muani receives it on the edge of the box. Doherty catches him from behind and is booked.
Not much more than an hour gone but some of these Irish guys look fully cooked.

OR WATCH FOOTBALL HIGHLIGHTS VIDEO BELOW
Check out the latest France highlights and goals here
Check out the latest Ireland highlights and goals here
Don't forget to comment and share