News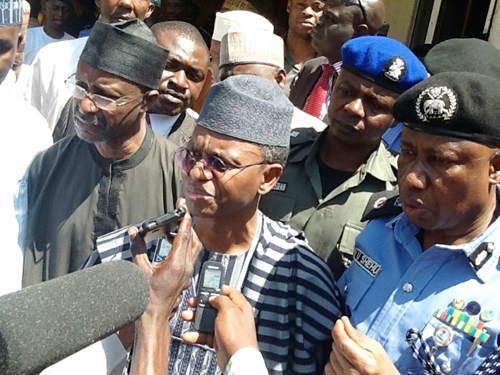 Governor El-Rufai has provided reasons why El-Zakzaky, cannot be set free, as well as clarified comments that FG spends N3.5m monthly on feeding the imprisoned Shia Muslim cleric.
Speaking when he received management team of The Sun Publishing Limited, in Kaduna on Thursday, the Governor of Kaduna State, Mallam Nasir El-Rufai, gave reasons why detained Shiite leader, Sheikh Ibraheem El-Zakzaky, cannot be set free.
According to SaharaReporters, El-Rufai, disclosed that the leader of the Islamic Movement of Nigeria (IMN), El-Zakzaky, was not being held illegally as widely reported.
He added that the IMN leader was detained on the orders of a competent court, being a suspect standing trial for multiple murders and other related criminal offences.
The governor said the state government took time to investigate the Shi'ite leader and discovered that his activities for more than 20 years had caused several killings, adding that having concluded investigation, the state took custody of El-Zakzaky from the DSS and duly charged him with multiple murders.
Explaining the alleged daily expenses of about N3.5 million on El-Zakzaky, he said the money was not on feeding of the Shi'ite leader but on everything related to his protective custody.
El-Rufai said El-Zakzaky is guarded by a detachment of soldiers and DSS operatives who live in the place he is being kept and who are maintained by the state government.
He said, "The N3.5 million monthly feeding on El-Zakzaky is not only about his food, but other expenses on security men attached to him.
"The security men are permanently stationed with him, they surrounded where he is kept. He is in custody because he is facing murder charge which is not bailable, among other charges.
"As a government, we decided to proscribe Islamic Movement in Nigeria (IMN) of which El-Zakzaky is the president because it is not registered with the Corporate Affairs Commission (CAC).
"So, any procession in the name of IMN is illegal, as far as Kaduna State government is concerned."
Don't forget to comment and share