Football Highlights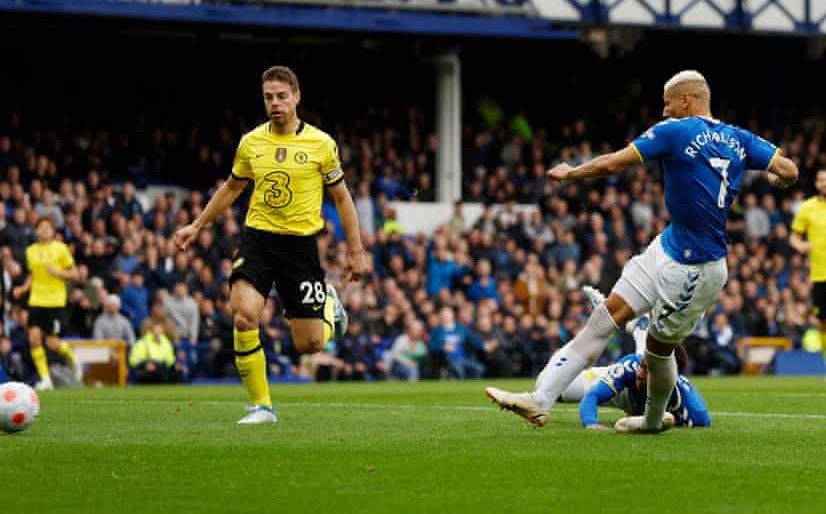 Download Football Video: Everton vs Chelsea 1-0 Highlights #EVECHE . 
Everton vs Chelsea 1-0 Highlights Download: English Premier League (EPL) – May 1st, 2022. 
#EVECHE #CHEEVE # #EPL #CFC #EFC #EvertonChelsea #ChelseaFC #EvertonFC . 
Everton vs Chelsea's match started with full attacking forces.
Everton really going for it. And doing well. Chelsea under pressure, a handball shout against James. 
Pickford again! From the corner, Rudiger gets free and smashes the ball at goal. Pickford blocks it with his…. face! Ouch. Brave.
The limping Richarlison is replaced by Salomon Rondon. It doesn't look too serious in terms of future availability, though he could be in trouble for throwing a flare into the crowd while celebrating his goal. I suspect he'll be warned or fined rather than banned, but who knows.
Loftus-Cheek marches pall Allan and Doucoure and whistles a long-range drive that is pawed over by Pickford. He was slightly in no man's land, having come out to punch a cross clear, but it was a comfortable enough save in the end.
Brilliant save from Pickford! Mount hits a shot that strikes the post and rebounds out.
The follow up strike comes in and Pickford does superbly well to react and block. Azpilicueta must have been sure that was going in.
Really good chance for Rudiger to get his side back into this, but from the corner, he heads wide from 15 yards.
Oooh it should be two! Chelsea over-run at the back again, the ball is slipped to Mykolenko. He is free in the box Mendy rushes out and the Everton man fires wild and wide.
A shocking moment from Chelsea's Azpilicueta! He dithers on the ball, Richarlison pinches it, and wallops it past the keeper!
OR WATCH FOOTBALL VIDEO BELOW
Check out the latest Chelsea highlights and goals here
Check out the latest Everton highlights and goals here
Don't forget to comment and share