Football Highlights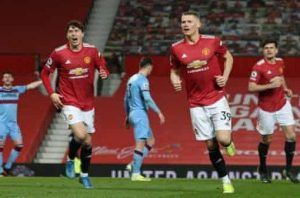 Download Premier League Results: Manchester United vs West Ham 1-0 Highlights #MUNWHU .
Manchester United vs West Ham 1-0 Highlights Download: Premier League Results: March 14th, 2021. 
#MUNWHU #EPL #MANUTD . 
Both Manchester United & West Ham Utd started the game with full attacking forces.

West Ham are having a go now, Bowen crosses and finds Soucek, but he can only head wide. Here come Lanzini and Benrahma, they replace Noble and Johnson.
Indeed, both Lanzini and Benrahma are going to come on in the next break in play. Meanwhile, Fernandes unleashes a sharp effort from range and Fabianski is forced into a smart save.
United have a deserved break-through and now West Ham will have to come out of their defensive shape if they're to rescue something from this. Lanzini and Benrahma have both been sent out to warm up.
ALSO SEE: Serie A: Cagliari vs Juventus 1-3 Highlights Download
United are ahead and it's a Dawson own goal! Wonderful corner whipped in by Fernandes that is attacked by McTominay. He misses it but Dawson, who is right behind him, can't react and it flies in off his head into his own net
McTominay is booked after running across Antonio's face. No attempt to play the ball. West Ham have switched to a back four, with Bowen dropping back into midfield to keep their numerical advantage. So they're now in a 4-5-1, leaving Antonio even more isolated.
James flashes a dangerous ball across the six yard box but no one attacks it. Greenwood was loitering but didn't read the cross.
Bit of a sluggish first half, though United have fashioned a couple of half-decent chances. West Ham have defended resolutely and already look happy with a point. Goalless at the break.
See updated and latest Premier League Table below
DOWNLOAD VIDEO
OR WATCH FOOTBALL VIDEO BELOW
Check out the latest Manchester United highlights and goals here
Don't forget to comment and share