Football Highlights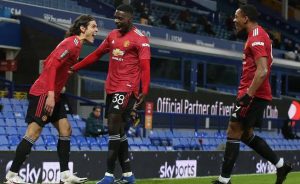 Download Football Video: Man United vs Everton 3-3 Highlights #MUNEVE .
Manchester United 3 vs 3 Everton Highlights Download: Premier League Results – February 2021. 
#MANUTD #EVERTON #MUNEVE .

Edison Cavani, Bruno Fernandez and Scott McTominay scored for Red Devils tonight but Everton equalized all the goals to share the points at Old Trafford.
Man Utd started the game with full attacking forces and that got them two goals before the end of first half.
At the second half, Everton bounced back and equalized the game after just 7minutes.
The away team recorded two goals within four minutes to balance the scoreline.
What is interesting about the line-up tonight is that it looks much more like a flat 4-3-3 rather than the 4-2-3-1 that we've been seeing over recent weeks.
The Manchester United Everton match starts without Gylfi Sigurdsson in the side taking up a No.10 role. it allows three central midfielders to create a wall in front of the back three.
Everton had joy with this system at the beginning of the term of course, although Allan was the man at the pivot on that occasion.
It'll be Tom Davies this evening, and it's a great opportunity for him to show what he can do in that area of the pitch.
That should in theory allow Andre Gomes and Abdoulaye Doucoure to be able to open up their attacking duties a tiny bit more – although understanding that they will have to do a fair bit defensively as well.
All in all, this system makes sense to me today.
ALSO SEE: EPL: Tottenham vs Chelsea 0-1 Highlights Download
The Squads
See the updated and latest Premier League Table below
DOWNLOAD VIDEO
OR WATCH FOOTBALL VIDEO BELOW
https://youtu.be/yPp3mna6ggI
Check out the latest Manchester United highlights and goals here
Don't forget to comment and share