Football Highlights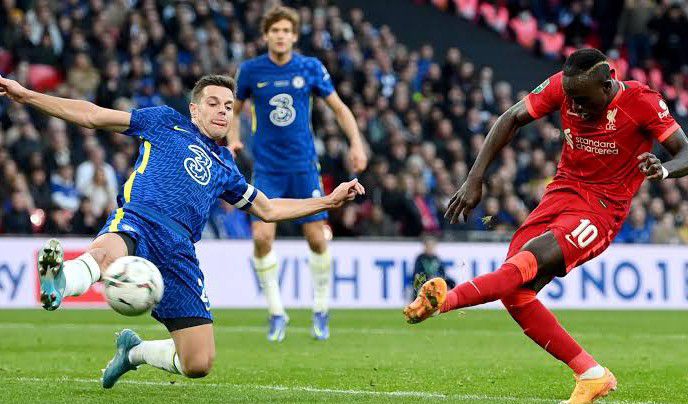 Download Football Video: Chelsea vs Liverpool 0-0 (PEN 10-11) Highlights #CHELIV . 
Chelsea vs Liverpool 0-0 (PEN 10-11) Highlights Download: EFL Cup (Carabao Cup) – February 27th, 2022. 
#CHELIV #LIVCHE #EFLCUP #CFC #LFC #CARABAOCUP
Both Chelsea & Liverpool started the match with full attacking forces and strong defenses.
Werner squares for Havertz who heads home from close range but Werner was offside in the build-up. Still no goals at Wembley, somehow!
Stunning pass from Alexander-Arnold puts Diaz away. Mendy comes out to narrow the target and saves his shot at the near post well. 
Liverpool are well on top now. Diaz gets to the byline and crosses into the six-yard box. Silva comes across and hacks the ball clear before shouting at his teammates.
ALSO SEE: Liverpool vs Leeds United 6-0 Highlights (Download Video)
Stuart Attwell has decided that van Dijk was involved in that goal despite not touching the ball. The goal will not stand and the game remains goalless.
Liverpool take the lead! A free-kick is clipped to the back post. Mane heads the ball across goal and Matip cannot miss from close range.
Mendy with a terrible clearance and Salah is in on goal. He dinks it over the keeper and it goes towards goal, but Silva gets back to clear the ball behind. 
Chalobah and Keita are both back to their feet and will continue for now. 
Chalobah and Keita both go in for a 50/50 challenge. Both men miss the ball but Keita catches his opponent high on the leg. It didn't look particularly clever but VAR sees no reason to intervene. Chalobah looks to have come off worse and is receiving treatment.
OR WATCH FOOTBALL VIDEO BELOW
Check out the latest Chelsea highlights and goals here
Check out the latest Liverpool highlights and goals here
Don't forget to comment and share